Middlesbrough 'serious health risk' restaurant fined £10,000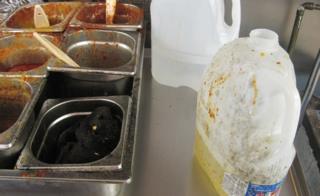 The owner of a restaurant which presented an "imminent risk" to health has been fined £10,000.
Environmental health officers found poor hygiene and mouse droppings near food at Peri Peri Original and Sweet Treats Dessert Lounge on Linthorpe Road, Middlesbrough.
They used emergency powers to close the business until it was cleaned, disinfected and pest-free.
Manager Amin Younis said it had "totally changed" since the inspection.
"Peri Peri would like to remind all customers that this incident happened some eight months ago," he said.
"Since then we have totally changed our management and staff have been held accountable for the drop in standards."
Officers from Middlesbrough Council's public protection service found poor standards of cleanliness throughout the premises during an inspection in February.
NY Grill Ltd, which operates the business, admitted failing to keep the premises clean.
It also admitted failing to keep clean and disinfected anything which came into contact with food, failing to control pests and failing to ensure food was protected against contamination, the authority said.
York magistrates fined the company £10,000 and ordered it to pay £1,700 in costs.
Middlesbrough Council's head of public protection Judith Hedgley said the business had "presented a serious risk to public health".
"There were clear signs of mouse activity, particularly droppings on and around foodstuffs and food equipment," she said.
"Officers made the decision to close the premises, and the heavy fine imposed by the court reflects how serious a risk to health this business presented."