Measles warning for European travel over festive period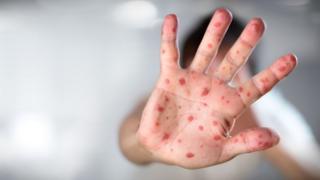 People travelling to Europe over the festive period have been advised to make sure they are up to date with vaccines due to a measles outbreak.
Public Health Wales (PHW) said Romania, Italy, Germany and Greece had the highest rates of the virus this year.
Measles is easily passed on and can be a serious illness in adults as well as children.
PHW said those who have not had measles or the MMR vaccine were at risk if they are visiting countries reporting cases.
Romania has had more than 7,500 cases in 2017, while there have been 4,750 in Italy and just under 900 in Germany.
In September, the World Health Organisation said the UK eliminated measles for the first time.
The global health body classes a country as having eliminated the disease when it has stopped it freely circulating for at least three years.