Manchester naked jam artists 'were lucky with weather'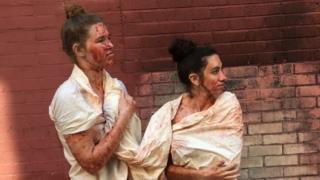 Two naked women smeared in jam in Manchester city centre have joked they were lucky with the weather and hailed the "amazing" reaction to their show.
Startled crowds watched artists Sophia Moffa and Riikka Enne wipe bread on each other then proceed to eat it in Market Street on Wednesday.
Police officers spoke to the pair and moved them on after the stunt.
They said the jokes on social media which followed their antics had "entertained" them.
The pair said the supermarket where they bought the fruity condiment capped the amount of jars of strawberry jam they could buy because they wanted to leave some on display.
Ms Moffa, 24, who is originally from Rome, and Ms Enne, 28, from Tampere, Finland, said they were "pleasantly pleased" with the online attention they had gathered.
"It is quite entertaining to read the comments people have posted on social media, it is almost as if the happening is being extended by the viewers."
The Manchester-based artists, who call themselves enne&moffa, said the "happening" was a nod to American performance artist Allan Kaprow.
The pair, who both studied at Manchester School of Art, said: "Happenings come from everyday life and become something less ordinary but acted out as ordinary.
"Instead the beauty of happenings is that it just happens, but it disturbs your life by being so out of the ordinary while being so ordinary."
Steve Douglas, from Manchester, tweeted: "Manchester was jam packed at the time, the two girls have been named as Miss Straw and Miss Berry, they were overheard saying 'I think we've got ourselves into a sticky situation'."
Insp John Middleton of Greater Manchester Police quipped: "I hope this isn't the start of a new craze that starts to spread."
Ms Moffa joked: "We were really lucky with the weather – it wasn't too cold. When you're in that mindset you don't feel it anyway."
She said it was their second "happening" – the first one involving taking turns to eat cucumbers on buses in Manchester while the other secretly filmed.