Manchester Arena attack: Scots girl still missing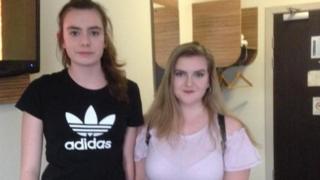 A 14-year-old remains missing after the suicide attack at Manchester Arena which claimed the lives of 22 people.
Eilidh MacLeod, from the Isle of Barra, has not been seen since the Monday night's attack.
Her friend Laura MacIntyre, 15, is in hospital with serious injuries.
Angus MacNeil, the former Western Isles MP, who knows the families of both girls, said that Laura's injuries would suggest she had not been far from the bomber.
Both girls' parents have flown to Manchester.
'Shock and disbelief'
Mr MacNeil told the BBC on Tuesday: "Laura is in hospital. She's alive, she's in a serious condition. We are still very worried for her, of course, the whole island is worried.
"We are very worried for Eilidh MacLeod. Our hearts go out to both families. It's been a huge shock to everyone on the island."
He said he had been to see Laura's grandmother who he knew very well.
"There's just shock and disbelief," he said.
Speaking about Laura, he said: "If we are guessing from her injuries, she wasn't far from the bomber."
He added that Laura was a great friend of his daughter.
"She's often round my house here," he said. "My daughter calls Laura's granny her granny. Eilidh is a good piper in the island. They are just both lovely girls.
"It's difficult for the community. People are trying to make sense of how this could happen – how you could leave a wee place like Barra and be caught up in this.
"It's very difficult to process and to understand and to find reasoning for it."
'Different place'
He also spoke about the impact on the close-knit community.
"If people here don't have children the age of Laura and Eilidh they will certainly know their families," he said. "They are feeling the pain of the families.
"This does seem a very different place to the world of international terrorism on the news."
The teenagers, pupils at the island's Castlebay Community School, were among thousands of young music fans who had watched a performance by US singer Ariana Grande at the Manchester Arena before the attack.
A vigil was held in Glasgow on Tuesday night to remember the victims.