Man wounded in Cambuslang shooting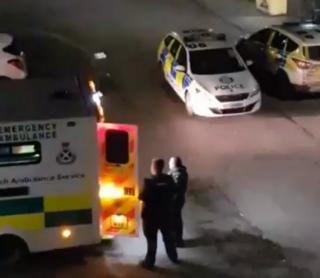 A man has been badly wounded in a shooting in South Lanarkshire.
The victim staggered into a nearby bar, shouting for help, after apparently being ambushed as he parked his car in Cambuslang.
Armed police were called to the scene in Cadoc Street and nearby streets were sealed off.
Police Scotland later confirmed that a 49-year-old man had been injured in the incident but was in a "stable" condition in hospital.
An eyewitness, who asked not to be named, told BBC Scotland the shooting happened outside the Kirkhill Bar at about 20:30.
He said: "There were a few regulars in the bar, watching the football when all of a sudden the chap staggers through the door, clutching his stomach, shouting 'I've been shot, I've been shot'
"It transpires he'd driven up and somebody had shot him in the stomach and his face.
"The police were phoned. The ambulance seemed to take forever to arrive. It turns out the ambulance was parked around the corner for about 15 minutes because they had to wait for a police armed response unit to arrive.
"When they did arrive, there was about six or seven of them, with huge guns, masks and balaclavas."
The injured man – who was a regular at the bar – was initially taken into the back lounge where staff administered first aid.
"Towels were got, loo rolls and stuff to try to stem the bleeding. He seemed to be shot in the stomach and the face, mainly in the stomach," the witness said.
A Police Scotland spokesperson said: "At around 8:50pm tonight police received report of a 49-year-old male found with gunshot wounds in Cadoc Street, Cambuslang.
"Emergency services attended and the victim was taken to hospital for treatment where his condition is described as stable.
"Police officers are still on the scene dealing with the ongoing incident to try and establish the full circumstances surrounding it."