Man who threw baby out of window in Luton jailed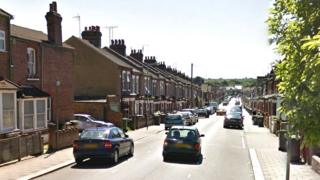 A man who threw a seven-month-old baby and its mother out of a window has been jailed for life.
Sean Ziemelis also gouged the boy's eyes and strangled him after using cannabis, Luton Crown Court heard.
The baby suffered superficial injuries after he was caught by a crowd which gathered underneath the window of the first floor flat in Luton on 1 August 2017.
Ziemelis, 31, of Reginald Street, Luton, admitted attempted murder.
He also pleaded guilty to causing actual bodily harm and common assault.
Prosecutor James Lofthouse said Ziemelis had taken cannabis the previous night.
'Dangled from window'
At 02:00 BST on 1 August, the child's mother found Ziemelis with his thumbs in the baby's eyes. She screamed for help and he started to strangle the boy, the court heard.
The 31-year-old then produced a knife and was hit with a piece of wood by the baby's grandmother before throwing her across the room. The baby's mother was punched until she fell in and out of consciousness.
Mr Lofthouse said: "He dangled him out of the window for a couple of minutes.
"A crowd had gathered because of the commotion. People were shouting not to hurt the baby."
The court heard Ziemelis threw the baby away from the crowd, but a man managed to catch him.
He then threw the mother out of the window. She sustained cuts, bruises and a loose tooth after her fall was broken by bins which neighbours had placed underneath the window.
'You are dangerous'
Members of the public dragged Ziemelis out of the window and he was hit with fists and bottles.
When police arrived, he told them he did not remember throwing the baby or the mother.
Psychiatrist Dr David Bond said Ziemelis' risk of causing serious harm to the public was increased when he used cannabis.
Sentencing him to life in prison with a minimum term of 12 years, Judge Richard Foster said: "I do not need a professional to tell me you are dangerous. Anyone who could do that to a child is dangerous.
"The appropriate sentence is life imprisonment. Any other sentence would not be adequate to reflect what happened"
Ziemelis will be treated under the Mental Health Act at Brockfield House before returning to prison.