Man dies in Heathrow Airport vehicle crash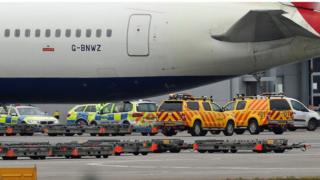 A man has died after two vehicles collided on the airfield at Heathrow Airport.
Two drivers were involved in the crash on the taxiway just after 06:00 GMT.
One man, in his 40s, was taken to a west London hospital with serious injuries and has since died. Another man is in hospital with a suspected broken shoulder.
At least 20 British Airways flights have been delayed by the incident, although the airfield remains open.
Passengers on one plane had to disembark after the crash, a Heathrow spokeswoman said.
She added: "Our deepest condolences go to the family and friends affected by this accident. We will be fully cooperating with the police in the investigation which will follow."
The Health and Safety Executive has been informed and there have been no arrests, the Met Police said.
It added that the deceased man has yet to be formally identified, but his next of kin had been informed.
London Ambulance Service said the man went into cardiac arrest and efforts were made to resuscitate him both at the airport and on the way to hospital.
Heathrow said the airfield remained open and it was "working to minimise disruption to passengers' journeys".
"This incident did not involve any passengers and is not expected to cause any impact on journeys today", it added.
But a spokeswoman for British Airways said several of its flights from Terminal 5 were delayed by the crash.
"We are doing all we can to ensure they will be able to depart as soon as possible," she added.