Man arrested over PC Yvonne Fletcher shooting released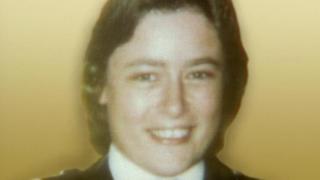 A man arrested on suspicion of conspiracy to murder PC Yvonne Fletcher three decades ago has been released without charge.
The officer died in April 1984 after shots were fired from the Libyan Embassy in London at a protest outside.
A man in his 50s, arrested in November 2015, was released on Tuesday due to "insufficient admissible evidence", Scotland Yard said.
PC Fletcher's family said they were "deeply disappointed and frustrated".
The Met said its investigation had identified enough material to identify those responsible for Fletcher's murder if it could be presented to a court.
"However the key material has not been made available for use in court in evidential form for reasons of national security," a spokesman said.
"Therefore, without this material and following a review of all the evidence that was available to prosecutors, the Crown Prosecution Service – who we worked closely with throughout – have informed us that there is insufficient admissible evidence to charge the man."
PC Fletcher, 25, had been policing a small demonstration outside the Libyan People's Bureau in St James's Square against the regime of Col Muammar Gaddafi.
She was one of 30 unarmed police officers at the scene when shots were fired from the first floor of the diplomatic mission.
In a statement, her family said they were satisfied the Met had "left no stone unturned" in its pursuit of justice but said they had "hoped for some closure".
"We are deeply disappointed and frustrated that a prosecution cannot proceed at this time. We had hoped that the latest turn of events would finally lead to some closure," it added.
The Met said the investigation would never be closed but added the likelihood of finding further evidence, in Libya or elsewhere, was low.
Assistant Commissioner Mark Rowley said: "I regret that we have not been able to deliver the justice that the victims and their families deserve.
"Our thoughts today are with PC Fletcher's family and all those affected by the events of that day in 1984."
---
Timeline of events
17 April 1984: PC Fletcher is killed while policing a demonstration outside the Libyan embassy in central London. An 11-day siege begins and diplomatic links with Libya are brought to an immediate end. When the siege ends all Libyan diplomats make their way out of the embassy and are given diplomatic immunity
7 July 1999: The Libyan government accepts "general responsibility" for the shooting of PC Fletcher and offers to pay compensation to her family. The next day, Scotland Yard announces it is to reopen the investigation into PC Fletcher's death
2 May 2002: Scotland Yard officers fly to Libya as part of the investigation into PC Fletcher's death but return with no real leads to follow
25 March 2004: British Prime Minister Tony Blair meets Col Gaddafi in Libya for talks, and foreign secretary Jack Straw announces Met police officers will fly there on 3 April 2004, in a fresh attempt to find PC Fletcher's killer
14 September 2009: Details are released about a deal between the British and Libyan governments in 2006, agreeing that any murder suspects will be tried in Libya. PC Fletcher's family say they knew about the deal and "feel in no way misled" by it
11 May 2012: Two Met counter-terrorism detectives travel to Libya to continue investigations
3 January 2014: Papers on the killing, released under the 30-year rule by the National Archives, reveal that the day before the killing Libyan officials were warned three times about potential violence if the demonstration went ahead
19 November 2015: Scotland Yard says a Libyan man in his 50s is arrested on suspicion of conspiracy to murder PC Fletcher. Police offer a reward of up to £50,000 for information about the killing
---