Major wildfire in Moray 'will take days' to put out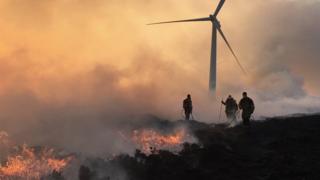 A huge wildfire which has destroyed more than 20 square miles of grassland in Moray will "take days" to put out, according to the fire service.
About 70 firefighters have spent a second day tackling the blaze which is close to two wind farms.
The alarm was raised shortly before 15:00 on Monday after flames were spotted near Paul's Hill wind farm at Knockando, south west of Elgin.
Fire chiefs called it a "significant, fast-moving fire".
There have been no reports of casualties but the fire has destroyed about 60 square kilometres (23 square miles) of grassland and woodland.
Scottish Fire and Rescue Area manager Bruce Farquharson said up to 100 people were now involved in fighting the fire.
Police, ambulance and local estate staff joined the efforts, along with Forestry Commission staff and local windfarm workers.
He said: "This is one of the largest fires we have had in the last couple of years – the area and the intensity of the fire.
"It has passed through one windfarm and is impinging on a second.
"We have had to evacuate a couple of farms for safety purposes, to the south of Dallas.
"The fuel is extremely dry after the winter and the sun we have enjoyed over the Easter weekend has created the perfect environment for fires to take hold and spread very quickly."
Four fronts
Mr Farquharson explained that SFRS cannot deploy firefighters into a woodland fire, and that it needed to be tackled from above using helicopters to drop water.
He said it would take days to put the fire out completely.
The blaze is burning on four different fronts.
The Paul's Hill wind farm, which consists of 28 turbines, is operated by Fred Olsen Renewables.
There was a large grass fire in the same area last weekend.
Firefighters have also tackled a separate wildfire affecting about 75 acres of land in Lochaber, and at Bonhill in West Dunbartonshire.
The Scottish Fire and Rescue Service has been on wildfire alert for number of days because of what they described as "tinder dry" conditions.
It said on Twitter: "Our crews have worked tirelessly to tackle a large number of significant wildfires across Scotland this #Easter weekend.
"There remains an extreme risk of wildfire across the country in the coming days, with temperatures remaining high and moisture levels low.
"We encourage everyone who is enjoying the countryside during this period of extreme danger to exercise caution and be aware of how easily fires can start – and spread."