Loughinisland judge asked to withdraw from case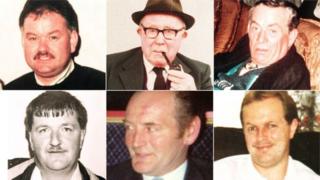 A judge due to announce whether he will quash a report into the Loughinisland murders has been asked to withdraw over a possible perception of bias.
Mr Justice McCloskey last month ruled that the police ombudsman's finding of collusion between some officers and the killers was "unsustainable in law".
The judge ruled in favour of two ex-police officers who brought the case.
Six Catholic men were shot dead as they watched a football match in the County Down village on 18 June 1994.
Loyalist gunmen burst into the Heights Bar and opened fire as the victims were watching the Republic of Ireland play Italy in the World Cup.
Mr Justice McCloskey is being asked to step aside because he had previously represented one of the officers in a different case.
The men who died were Adrian Rogan, 34, Malcolm Jenkinson, 53, Barney Green, 87, Daniel McCreanor 59, Patrick O'Hare, 35, and Eamon Byrne, 39. Five others were wounded.
No-one has ever been convicted over the attack.
In June 2016, the police ombudsman found there had been collusion between some police officers and the UVF gunmen.
Two police officers challenged the legal basis of the report and Mr Justice McCloskey was due to announce last week if he would quash part or all of its findings.
But lawyers for the ombudsman and families of the victims have lodged submissions asking him to step aside.
The submissions are based on the fact the judge previously represented one of the former Royal Ulster Constabulary (RUC) officers in a case against the office of the police ombudsman.