London fire: Tragedy caused by years of neglect – Khan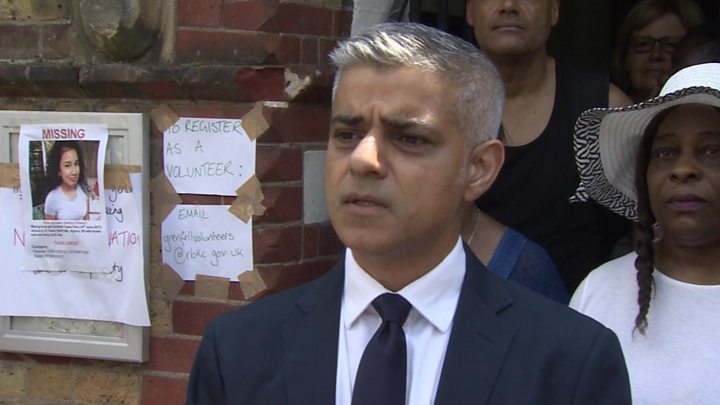 The Grenfell Tower fire was a "preventable accident" caused by "years of neglect" by the local council and successive governments, Mayor of London Sadiq Khan has said.
Speaking after attending a local church service in memory of the victims, he said the fire was "a national disaster that requires a national response".
The government has sent in some of its staff to bolster the relief effort.
Kensington Council said it would fully cooperate with the public inquiry.
The council has been widely criticised for its handling of the disaster, with residents complaining that officials had provided little support or information.
"People are angry, not simply at the poor response in the days afterwards from the council and the government, but at the years of neglect from the council," Mr Khan said.
"There's a feeling that the council and government don't understand their concerns and don't care."
He said the fire was the consequence of the "mistakes and neglect from the politicians – the council and the government".
"People in this community are sick to death of platitudes from politicians," he added.
Writing in the Observer on Sunday, Mr Khan suggested high-rise tower blocks dating from the 1960s and 1970s could be torn down in the wake of the fire, which he said may well be the "defining outcome of this tragedy".