Leicester council sent care children list to taxi firms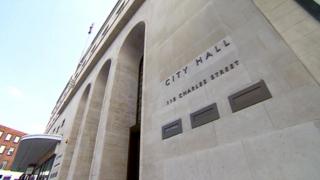 Details of "hundreds, potentially thousands" of vulnerable people, including children, have been emailed to taxi firms by a council.
Leicester City Council accidentally sent the spreadsheet to 27 companies while getting tenders to transport people in care or with special needs.
Councillor Ross Grant said the news made him feel "sick in my stomach".
The authority said it took data protection "very seriously" and had launched an investigation.
The original email was sent on Tuesday morning, and a recall email was sent just over 24 hours later.
The recall said: "[The original] email had a large file attached to it called 'Taxi Tender Live v 3' that contains passenger information and was sent in error to your company.
"Please delete this email. Please then delete the email from your "Deleted items" folder. Please do not try to open or read it."
It then stated disclosing any information from the email was a breach of the Data Protection Act.
Mr Grant said he felt "sick in my stomach" that "hundreds, potentially thousands" of people could be involved.
"We are talking children the court has taken action to protect from someone who would put them at risk and the council is potentially the organisation leaking their address," he added.
"There is no guarantee this has not been copied and spread, we cannot put the genie back in the bottle.
"I am not happy at all, I have had no answers to my questions from the council and if I don't get some I will be taking it to a higher level."
A spokesperson for Labour-controlled Leicester City Council said: "Information would normally be shared with taxi companies on a much more limited basis.
"We take data protection and confidentiality very seriously and took immediate action, contacting all of the firms and asking them to delete the information.
"We are investigating and will report this incident to the Information Commissioner's Office."