Landowners face tax on vacant plots in Welsh Government plan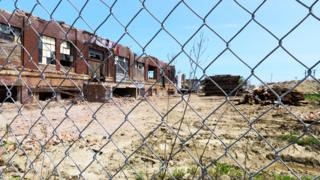 Landowners with empty plots they are not using will have to pay a vacant land tax under Welsh Government plans.
It would apply to land where permission to build has been granted – or land that is within a local development plan – but where no work has been carried out.
Critics accuse some businesses of "land banking" – hoarding land until it increases in value before building.
But house builders have raised concerns about the proposed tax.
The tax is one of four being considered by the Welsh Government under new powers.
Ministers say it will be an incentive for companies to build and stop empty sites from becoming derelict.
They are unable to say how much the tax would raise, and officials say it is unlikely to make a big contribution to the budget. They cite the example of the Republic of Ireland, where the tax taken is enough to cover the cost of collection.
Finance Secretary Mark Drakeford said: "Housing is a priority for the Welsh Government.
"A tax on vacant land could prevent the practice of land banking and land not being developed within the expected timescales.
"The Republic of Ireland vacant sites levy provides a useful starting point for how a vacant land tax could work in Wales."
The levy, which came into force in January, allows local authorities in Ireland to charge 3% of the market value of vacant sites, with the first payments to be made in arrears in 2019.
Mr Drakeford said the Irish example and the "relatively narrow focus" of the tax made it the "most suitable" of the four shortlisted ideas to test Wales' ability to introduce new taxes.
Under powers granted by the 2014 Wales Act, proposals for new taxes will have to be approved by the UK government and Parliament at Westminster.
Mr Drakeford will explain the next steps in the process in a statement to AMs on Tuesday.
When the idea was first raised in October, the House Builders Federation claimed such a tax could undermine a Welsh Government plan to build 20,000 affordable homes by making Wales less attractive to major builders than England.
Ifan Glyn, from the Federation of Master Builders Cymru, told BBC Radio Wales there were a variety of reasons why development of land did not happen or stalled.
He cited inadequate planning, skill shortages in construction, a shortage of materials and difficult relationships with utility companies.
"If there's a tax that's introduced that can focus solely on land banking for financial reasons to maximise profits, we would absolutely agree with that," he said.
"Our issue is we don't see how this tax can differentiate between land that's been banked for financial reasons and land that isn't being developed or stalling for reasons outside the developer's control."
Tourism tax
Work will continue to develop the three other tax ideas on the shortlist – a levy to fund social care, a tax on disposable plastics and a tourism tax.
The Conservatives have called for the idea of a tourism tax – which would be paid on holiday accommodation – to be scrapped, while Plaid Cymru has called for the introduction of a plastics tax as a way to cut waste.
Welsh Government sources said it hoped to work with the UK government on a plastics tax.
Two new taxes will take effect in Wales in April – the Land Transaction Act (which replaces stamp duty) and the Landfill Disposals Tax are expected to collect together about £300m a year.
From April 2019, ministers will also be able to vary income tax, cutting or raising rates by up to 10p in the pound within each tax band.
However, First Minister Carwyn Jones has made it clear the Welsh Government has no intention to change income tax rates before the election in 2021.