'Just call me Harry' prince tells tourism conference in Edinburgh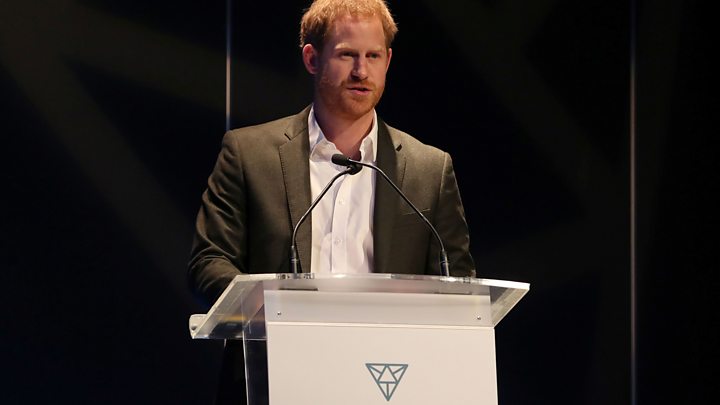 The Duke of Sussex asked for delegates at a tourism conference in Edinburgh to address him simply as Harry.
The prince was speaking at the Travalyst event being held in the Scottish capital.
Ahead of the short speech, event host Ayesha Hazarika told the gathering: "He's made it clear that we are all just to call him Harry."
Within weeks, the Queen's grandson along with his wife Meghan, will officially step away from royal duties.
In his address, Prince Harry – who is known as the Earl of Dumbarton when he is in Scotland – warned that the growth of tourism was threatening to destroy some of the world's most beautiful places.
On one of his last official engagements the duke said that if action was not taken now then more destinations would have be closed to worldwide visitors.
He also called on travel and tourism businesses to work together to develop a more sustainable future.
What does the Queen's grandson want to be called?
Prince Harry remains a prince but he has already made it clear that he now wants to be known as Harry, Duke of Sussex.
He and his American wife will keep their HRH prefix but not actively use it. They will also retain their Scottish title of the Earl and Countess of Dumbarton.
In the spring the couple, who will divide their time between North America and the UK, will step away from royal duties and cease to receive public funds.
It was all very different two years ago
By Angie Brown
BBC News Scotland website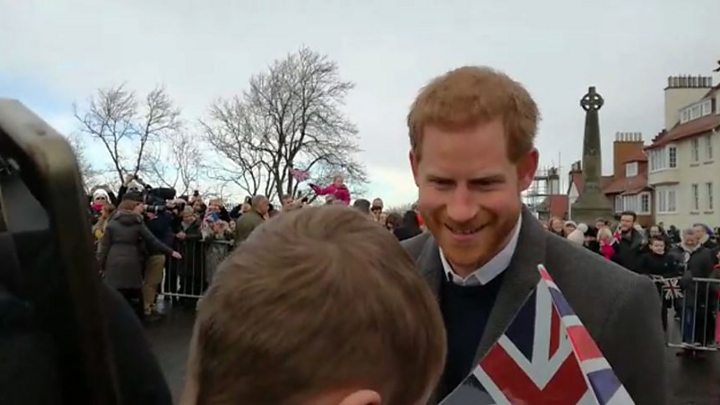 It was a cold February day in 2018 when Prince Harry greeted hundreds of people lining the road up to Edinburgh Castle.
They were all very eager to wish him well ahead of his wedding that May to Meghan Markle.
The prince and his bride-to-be offered hands of friendship and exchanged pleasant words.
Harry expressed concerns at one point to a woman he feared would have a barrier topple on because the crowd was pushing from behind.
Children spoke of their "excitement" at meeting royalty, others said the prince playfully complimented an onlooker's ginger beard and Harry told a woman she had the warmest hands he had felt that day.
Carried won luggage
However, fast forward to February 2020 and the scene was quite different. The weather was pretty similar but there was no Meghan and no big crowds to greet the Queen's grandson.
He had been spotted arriving in Waverley train station the day before his tourism conference speech wearing a baseball cap and jeans and carrying his own bag.
There were no fans waiting outside the Edinburgh International Conference Centre on Wednesday where he addressed the Travalyst event.
Down in the basement where the conference was being held I saw him on the far side of the room greeting a few delegates at his table with warm hugs and kisses.
He sat casually in an open necked shirt and after making his speech he returned to his seat and listened intently to the other guests on stage.
On this occasion the prince was simply a face in the audience, another delegate in the crowd of tourism industry stakeholders.