Jury discharged in Rolf Harris case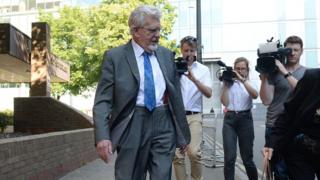 The jury in Rolf Harris's trial has been discharged after failing to reach verdicts on four sex assault charges.
The ex-entertainer, 87, who had been accused of indecently assaulting three teenage girls at public events between 1971 and 1983, denied all the charges.
The Southwark Crown Court jury had spent five hours deliberating before being discharged.
It had been a retrial for Harris on three counts after a jury in a previous trial failed to reached verdicts.
The fourth count was a new charge of indecent assault.
After deliberating since last Friday, the members of the jury were unable to reach unanimous or majority 10-2 decisions on any of the charges.
Mr Harris had been accused of groping a 14-year-old girl during a music event at the Lyceum Theatre in London in 1971.
Two further charges related to alleged indecent assaults on a teenager in 1978, during filming for ITV celebrity show Star Games.
The fourth related to a 13-year-old girl who claims he touched her breast after filming BBC children's TV programme Saturday Superstore in 1983.
Mr Harris's lawyers said the former entertainer did not remember any of the events in question.