International aid: Government fund 'could be causing harm'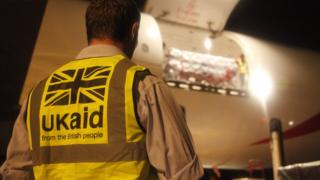 A government-run international aid fund could actually be causing harm, the UK's aid watchdog has warned.
The Conflict, Stability and Security Fund (CSSF), which has a yearly budget of £1.2bn, focuses on projects promoting peace in conflict zones.
But the Independent Commission for Aid Impact says it is not known if the projects are achieving results.
The government said the report had also highlighted some successes but it would consider the ICAI's findings.
A government statement read: "As the CSSF grows, we will continue to act on lessons learnt including considering the findings of this report."
'Sub-optimal results'
The ICAI, which scrutinises taxpayer-funded UK aid, said shortcomings at the CSSF, which will have an annual budget of £1.3bn by 2021, meant the effects of the fund's work were unclear.
The ICAI report stated: "As human rights risk assessments are inconsistent and programme monitoring is often weak, we do not know if CSSF programming is causing harm."
According to the report, CSSF projects sometimes went against evidence of what worked, which was likely "to lead to sub-optimal results".
The report also stated CSSF programming demonstrated insufficiently rigorous monitoring systems, weak programme delivery and rushed timelines.
A project in Colombia to promote "reconciliation activities" was deemed to be not much more than an opportunity "for elites to give speeches".
Recommendations in the report include addressing gaps in management, assessing value for money and better understanding the risks of, and potential for, doing harm.
'Basic design errors'
Richard Gledhill, the ICAI commissioner who led the review, said: "Increasingly the world's poorest people are living in conflict zones, so it is right that the UK government is attempting to address conflict and instability.
"While we saw some good work, too many programmes showed signs of basic design errors with poor delivery and a lack of quality control.
"For a fund of its size this is worrying, and raises important concerns about its potential impact and value for money."
Labour's shadow international development secretary Kate Osamor said: "The commission's review reveals that in their sample, every human rights assessment resulted in a green light for the proposed activity, without even a single modification to its design.
"It raises urgent questions for the government on how it will now ensure that human rights safeguards are taken seriously, and do not serve merely as a rubber stamp."
Tamsyn Barton, chief executive of Bond, the UK's network of International Development NGOs, said: "At a time when aid and development are under intense scrutiny, it is critical that the CSSF rapidly puts into effect the recommendations of this report."