Income rules for foreign spouses upheld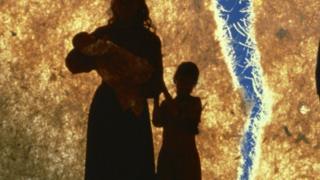 Income rules which stop thousands of British citizens bringing their foreign spouse to the UK are lawful "in principle" the Supreme Court has ruled.
Judges rejected an appeal by families who argued that the rules breached their human right to a family life.
As of 2012, Britons must earn more than £18,600 before a husband or wife from outside the European Economic Area (EEA) can settle in the UK.
Judges criticised this threshold as "defective" and a cause of "hardship".
The seven justices sitting on the case found those rules did not take sufficient account of the welfare of the children involved, or of alternative sources of income.
The rule was introduced by the former coalition government to stop foreign spouses becoming reliant on taxpayers.
The minimum income threshold, which also affects people settled in the UK as refugees, rises to £22,400 if the couple have a child who does not have British citizenship – and then by an additional £2,400 for each subsequent child.
The markers replaced a previous, more general, requirement to show the Home Office that the incoming partner would not be a drain on public resources and that the couple or family could adequately support themselves.
They do not take into account the earnings of the overseas partner – even if they have higher qualifications, or are likely to be employed in higher-paid work than their British spouse.
And the threshold does not apply to spouses from within the EEA.
Children's 'best interests'
Delivering their judgement, the justices said the government's rules had the "legitimate" aim of ensuring "that the couple do not have recourse to benefits and have sufficient resources to play a full part in British life".
But they said the rules fail because they do not treat "the best interests of children as a primary consideration".
They said how the rules are implemented should take more account of alternative sources of income, aside from just benefits and salaries.
The BBC's Home Affairs correspondent Dominic Casciani said the ruling meant thousands of couples had technically won fresh hope to settle in UK – but the rules were broadly held.