'Ice Maiden' team completes Antarctica ski record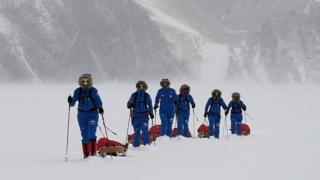 Six women from the British Army have become the largest all-female group to ski coast-to-coast across Antarctica.
The Ice Maiden team began the 1,000-mile expedition on 20 November – each pulling an 80kg sledge behind them.
After 62 days on the ice, the six soldiers crossed the finish line at the Hercules Inlet just before 10:00 GMT.
They were expected to take between 75 and 90 days, with the team tackling winds of up to 60mph and temperatures reaching as low as -40C.
Maj Nics Wetherill, of the Royal Army Medical Corps in Portsmouth, said: "I'm just so incredibly proud of the team.
"I can't believe how far we've come.
"This journey has had good times, bad times and great times for all concerned, and each of them, I know, has made us better people."
Maj Wetherill came up with the idea along with Maj Nat Taylor, also of the Royal Army Medical Corps.
They said they wanted to inspire women of all ages and abilities.
The only conditions for applicants were they were serving in the Army, regular or reserve. In total, 250 applicants came forward.
Applicants were put through rigorous tests in the UK and Norway before the final six were picked.
The other four members of the team were reservist Maj Sandy Hennis of the Royal Signals, Capt Zanna Baker and Lt Jenni Stephenson, both of the Royal Artillery, and Honourable Artillery Company reservist Lance Sgt Sophie Montagne.
Maj Taylor added: "I have spent the last few days trying to imprint this beautiful landscape in my mind.
"We have called it home for close to two months now and I will, in a strange way, miss it a lot."