'Ice Maiden' team aim to break ski record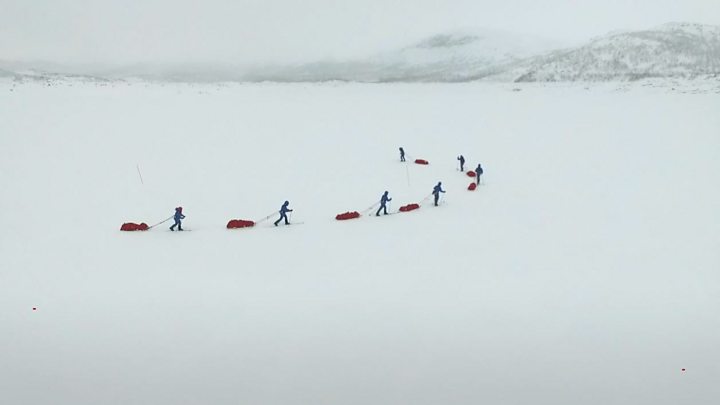 Six women from the British army are attempting to become the first all-female group to ski coast-to-coast across Antarctica.
The Ice Maiden team began the 1,000-mile expedition on Monday, pulling an 80kg sledge behind them.
The journey is expected to last between 75 and 90 days, with winds of up to 60mph and temperatures as low as -40C.
Lt Jenni Stephenson said she hoped the trip would "inspire and encourage" other women.
The team was chosen from 250 applicants, with the only requirements being that they were female and serving in the Army as a regular or reservist.
They were then put through rigorous tests in the UK and Norway before the final six were picked.
The expedition was due to start on 3 November, but poor weather conditions at the Union Glacier camp delayed them.
However, they still held a two-minute silence and played the Last Post on Remembrance Day at the camp, marking the moment on the quietest continent on earth in front of a cross made of skis.
The team will not return until after new year.
Lt Stephenson said: "I feel incredibly lucky to be part of a team of confident, aspirational and positive women.
"We've all sacrificed various parts of our lives to focus on the expedition, but the most important part lies in its aim to inspire and encourage other people to find their own Antarctica.
"I hope we can go some way to achieving this."