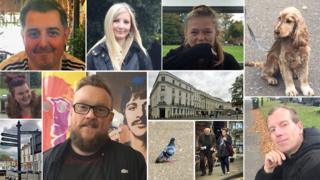 Royal Leamington Spa has been ranked the happiest place to live in Britain. But do its plaudits ring true on the streets of the town?
Hannah Antrobus, 27, who has lived in the Warwickshire town her whole life says she is not surprised it's "officially" the happiest place to live.
"It's quite a welcoming place, everyone is really friendly," she says.
"There have been times I haven't had enough money for my parking and people have just paid it for me.
"It's all here really – cafes, restaurants, great live music venues, and the parks are kept really nice."
Want to live happy? Choose a spa town
More than 17,000 people across the country were asked how happy they are with aspects of where they live.
Community spirit, feeling safe, the friendliness of locals, amenities, availability of local services and earning enough to live comfortably were all taken into account.
Ms Antrobus admits the downside of living in such a prosperous place means house prices are high.
According to Rightmove, the average asking price of a home in Leamington Spa is £330,848, compared to the national average of £310,003.
"It can be difficult to get on the property ladder here, it's a nice place to live if you can afford it.
"Leamington Spa does have a reputation for being a bit posh, but it depends really, it's not all like that," she adds.
Social worker Neil Jones is a prime example of someone who has been priced out of Leamington Spa's property market.
According to him, it's "definitely the higher end of middle class".
"The rent's high, the house prices are high, so to afford a place I had to move back to Birmingham," he says.
"There's a lot of homelessness but people like to help the supporting services. They're just nicer people around here, people in Leamington are a bit more liberal.
"There are also a lot of young professionals, so there are more bars and restaurants and lots of independent shops which are doing really well."
£330,848 Average asking price for a home in Leamington Spa

£20,000 more than in 2016

0.5% of people on Jobseeker's Allowance. The UK rate is 1.2%
Getty Images
Another resident who is happy with his lot is chef Amir Diba.
Born and raised in Leamington, he's lived in a number of places but says his hometown is definitely the happiest – especially compared to London.
"Once you go outside London, people are more laid back and friendly," he says.
"If you say hello to someone in London they'll think you're strange. It's a bit more chilled out here, there's a great atmosphere – you feel safe, there's not much crime.
"People have a happy work life and a happy personal life. There's no segregation around here, everybody seems to get on."
Mr Diba believes "the normal working person can afford to live here" because of the nearby car industry.
"There's something for everyone, if you're into history there's plenty of history. The buildings, the parks, it's all here."
Not everyone is as upbeat as Mr Diba though.
Matthew Cross is originally from Coventry but has lived in Leamington for six years. He describes the town as "boring. It's the same thing day in, day out".
He also believes crime "is escalating", an opinion that appears to be supported by published crime statistics.
"We need to do more for the children and keep them off the streets," he said.
What do the young people of the area think?
Jade Elizabeth, 17, and 19-year-old Jami Lee-Richardson have mixed feelings.
"It's the people that make the place. It's a nice place, [but] there's not enough for young people to do and it's not affordable," says Jade.
Jami describes another side to Leamington – one that makes life difficult for those less wealthy.
"I've got £40 on me and I need clothes and food- it's not going to happen," she says.
"They're taking shops out and putting flats or offices in, there are so many 'to let' signs around.
"If I want to get affordable clothes, I normally have to go to Coventry.
"It feels like I've got bricks on my shoulders around here, there's a lot of negativity."