Grenfell Tower fire: Seventy-nine people feared dead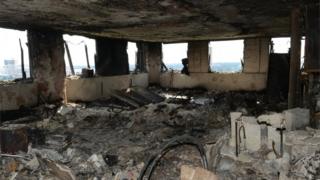 Seventy-nine people are either dead or missing presumed dead after the fire at Grenfell Tower, police have said.
Met Police Commander Stuart Cundy confirmed the figure in a statement on Monday, adding it may still change.
Fire swept through the 24-storey block in North Kensington, west London, shortly before 01:00 BST on 13 June.
Many of the families that were affected lost more than one relative, said Mr Cundy, adding that his "heart went out to them".
Of those who were injured, 18 people remain in hospital, with nine in critical care.
Mr Cundy said his priority was to identify the people who died in the building and to remove them as quickly as possible.
But he warned that not everyone would be identifiable and the operation would take "many, many weeks".
"This is incredibly distressing time for families," he said. "It is really hard to describe the devastation the fire caused.
"What is important for me is to find answers for those families who have been directly affected."
The investigation will be "wide ranging", according to the Met, looking at the construction of the building, the recent refurbishment, how it was managed and maintained, and fire safety measures.
"I would like to reassure everybody that we will be looking at all criminal offences that might have been committed by any individual or any organisation," said Mr Cundy.
"Where offences have been committed, I will do everything in my gift to make sure they are brought to justice."
A minute's silence was held at 11:00 BST across the UK to remember the victims.
Earlier, police also released new images from inside the 24-storey building to show the scale of the challenge they face.
The government has sent in a team of civil servants to to help with the relief effort.
On Sunday, the prime minister also announced a £5m fund to help those families affected.
Each household that has lost their home will receive at least £500 in cash and £5,000 paid into an account.