Govia Thameslink Railway introduces third timetable in two months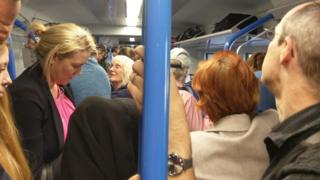 A troubled rail operator says its third new timetable in two months will be more "robust and reliable".
Passengers on Thameslink and Great Northern routes have faced disruption since a new timetable began on 20 May.
Govia Thameslink Railway (GTR) has had to amend services again from Sunday to cater for engineering works.
But a spokesman said it would help them to "move trains into the right place for Monday, the first working day of the interim timetable".
"The new timetable provides passengers with a more robust and reliable service, gives priority to peak hour trains and seeks to reduce gaps in the service," he added.
The company's website said the timetable would continue to evolve over time.
"Once this interim timetable is bedded in, we will look to introduce more services to complete the intended May 2018 timetable," it said.
'Significant delays'
GTR, which oversees Thameslink and Great Northern routes, changed the time of every train on its timetable on 20 May, which saw some services withdrawn and further cancellations without any warning.
The operator said ultimately the changes would mean a 13% increase in services across the GTR network – 400 extra trains a day and new direct services from 80 stations into central London, creating space for 50,000 extra passengers at peak times.
In a half page newspaper advert, initially placed in the Metro newspaper and since then replicated in local papers, it apologised and acknowledged it "failed to launch new services as planned" which has resulted in "significant delays, cancellations and disruption".
An interim timetable introduced on 4 June to improve performance saw about 6% of daily services removed, but reliability has continued to struggle.
The third timetable will prioritise peak trains to give "more certainty to plan your journeys to and from work", the advert pledged.
Govia Thameslink's ongoing problems
Last week in the House of Commons, the government warned improvements to Govia Thameslink services were "simply not happening quickly enough" and the train operator risks losing its franchise.
Standing in for Theresa May at Prime Minister's Questions on Wednesday, Cabinet Office minister and Aylesbury MP David Lidington said: "We have launched a review of Govia Thameslink which will report in the next few weeks, and if those findings show that Govia is at fault we won't hesitate to take action whether that's fines, restricting access to future franchises or stripping them of the franchise.
"Passengers deserve far better than they're getting at the moment in terms of service and we will hold those operators to account."