Government orders review of school transport services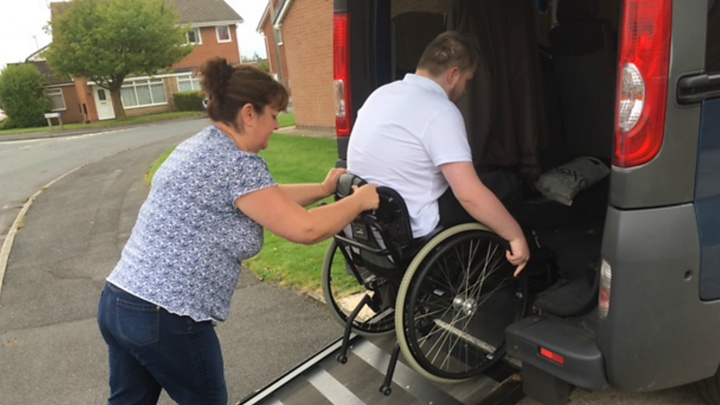 Education Secretary Justine Greening has ordered a review of the statutory guidance for local authorities on school transport.
It follows an investigation by the Contact charity for families with disabled children.
They surveyed more than 2,500 people and 48% said they had been forced to cut their hours or give up work to help with their child's school transport.
A total of 19% said difficult journeys harmed their child's ability to learn.
And Contact also found that more than half of the local authorities they studied in England were publishing misleading or unlawful guidance.
Una Summerson, the charity's Campaigns manager, said: "This is totally unacceptable.
"Some parents told us that they're paying more than £500 a year for school transport when they could in fact have that for free.
"That's having a devastating impact, and causing real financial hardship for families."
The Local Government Association told 5 live Investigates that councils were working hard to ensure suitable travel arrangements are made for disabled children but that it was becoming increasingly difficult in the face of "sustained financial challenges".
'Life-changing impact'
Christine Anderson says she was shocked when her disabled son's school transport arrangements were changed without warning.
Christopher, 15, has learning difficulties and a complex range of physical conditions, including spina bifida, sleep apnoea, and adrenal insufficiency.
He attends the nearest suitable special school, 30 miles from the family home in Thornton-Cleveleys, Lancashire.
"I know Christopher and I know the limits we can push him to, and I just feel like it's ripped us all apart," said Christine.
"We are doing everything to keep him well and then somebody goes and makes a decision that has a life-changing impact for him and the rest of the family, with not a thought."
For two-and-a-half years he had travelled to school in a taxi accompanied by an escort, but last September, Lancashire County Council said the driver would be collecting two more pupils en route, adding 30 minutes each way to Christopher's daily round trip.
As Christine explained, the extra journey time and presence of a noisy younger child overwhelmed her son, who struggles with sensory overload.
Despite making efforts to adapt, he soon found the situation unbearable.
"He was coming home really frazzled and stressed and that meant our whole evenings were written off, the weekend was written off. He couldn't cope with the thought of going to school because he needs quiet and calm.
"So we gave it a second week. By the Wednesday, he was refusing to get up for school and I couldn't get him out of the door and couldn't get him to sleep at night. And that's a really difficult situation.
"Any stress and anxiety affects his health, so he started to get unwell."
Yet although Christine had supporting letters from the family GP and specialists at Alder Hey Children's Hospital in Liverpool, the council has refused to reverse its decision for the last 12 months.
They have now promised a review after the case was taken up by 5 Live Investigates.
In the meantime, Christine has been forced to resign from her job and now takes Christopher to school herself rather than jeopardising her son's health.
Contact's findings come months after England's local government ombudsman said there had been a "marked increase" in complaints about school transport decisions in 2015-16.
---
5 live Investigates: School Transport for Disabled Children is broadcast on BBC Radio 5 live on Sunday 10 September at 11:00 BST – or catch up on the BBC iPlayer.
Have you got something you want investigating? We want to hear from you. Email 5liveinvestigates@bbc.co.uk