Gerry Adams' prison escape appeal dismissed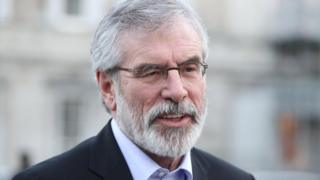 Gerry Adams has failed in his bid to have convictions for attempting to escape prison overturned.
The former Sinn Féin president was imprisoned in the 1970s.
He was among hundreds of people held without trial during the early years of Northern Ireland's Troubles.
On Christmas Eve 1973, he was among four detainees stopped by wardens while allegedly trying to cut their way through the perimeter fencing.
He tried to escape again in July 1974 by switching with a kidnapped visitor who bore a "striking resemblance" to Mr Adams, the court heard.
He was subsequently sentenced to 18 months in jail for attempting to escape.
Lawyers acting for Mr Adams in the Court of Appeal in Belfast had argued that the order for his internment was legally flawed.
They said that a junior minister had signed the necessary document in 1975, when it should have been the Northern Ireland secretary.
Counsel for the Public Prosecution Service argued that a long-established legal doctrine allowed other ministerial figures to lawfully authorise Mr Adams' internment.