Fresh warnings for snow and ice across Scotland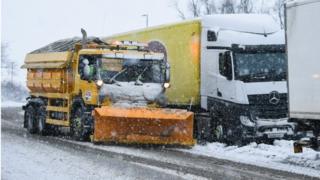 The Met Office has upgraded its weather warning to amber for snow and ice, covering much of Scotland.
The "be prepared" alert is in place for wide parts of the country, including Strathclyde, Central, the Lothians, south west Scotland, Tayside and Fife from 07:00 until 22:00.
Drivers are being warned that travelling at peak times will be extremely challenging.
Police said there would be a high risk of disruption to journeys.
Public transport cancellations are also likely and there is also a chance of power cuts.
Mobile phone coverage may be affected and some rural communities may be cut off.
Police Scotland has increased their travel warning from stage 2 to stage 3, meaning travellers are likely to experience significant delays.
'Be aware of risks'
Supt Louise Blakelock, of Police Scotland's road policing unit, said: "Due to the upgraded warning from the Met Office it has been necessary to update our travel advice.
"We've been working closely with our colleagues at Transport Scotland, the Met Office and local councils to assess the conditions.
"Therefore, for the duration of this updated warning, there is a high risk of disruption for road journeys and there is a high likelihood of the conditions for travel being very poor."
She added: "Those heading out on the roads should be aware of these risks – ensure you have a fully charged phone, warm clothing, and leave extra time for your journey.
"Drive to the road conditions and make sure you check the most up-to-date information from Traffic Scotland and the Met Office before heading out. Our priority is to ensure the public are safe."
Most of Scotland is covered by a yellow Met Office warning for ice.
A number of schools will be closed in South Lanarkshire, the Borders and the Highlands and school transport will be affected in some areas.
The Met Office said snow showers will become heavier and more frequent early on Friday and will continue on and off through the day.
Spells of more persistent, heavy snow are likely. There is expected to be a gradual improvement during the late evening.
A guide to travel warnings
Travel conditions are graded at four levels by police and transport officials depending on the severity of the weather.
Stage 1: Normal operations – no severe weather.
Stage 2: Travel with caution – police advise people that conditions for road travel may be hazardous.
Stage 3: High risk of disruption for road journeys – police advise that there is a high risk of disruption for road journeys. Travellers are likely to experience significant delays.
Stage 4: Avoid travelling on the roads – journeys should be avoided. Severe delays expected.
What the weather warning colours mean
Yellow: Severe weather expected. Yellow means you should plan ahead thinking about possible travel delays, or the disruption of your day-to-day activities.
Amber: Be prepared for disruption. There is an increased likelihood of bad weather affecting you, which could potentially disrupt your plans and possibly cause travel delays, road and rail closures, interruption to power and the potential risk to life and property.
Red: Extreme weather is expected. Red means you should take action now to keep yourself and others safe from the impact of the weather. Widespread damage, travel and power disruption and risk to life is likely. You must avoid dangerous areas and follow the advice of the emergency services and local authorities.