French strikes: How could they affect UK travellers?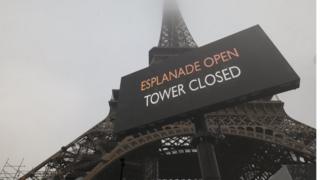 British travellers face cancellations, delays and disruption getting to and from France during the next five days due to a general strike in the country.
Industrial action over planned pension reforms is expected to cause problems for trains, airlines and French roads.
Eurostar said 90 services will not run, while EasyJet has cancelled 70 flights and BA has cancelled more than a dozen.
The Foreign Office has said journeys to the Netherlands, Belgium, Italy and Germany could also be affected.
It has urged travellers to check with operators before beginning their journey.
How are flights affected?
Some air traffic controllers and Air France workers have said they will take part in the strike – in a bid to cause disruption to air travel. As a result:
EasyJet said 70 flights flying in and out of the UK had been cancelled on Thursday, and it expects other flights to experience delays. It has urged passengers to use its online flight tracker to check the status of their flight
Flybe said 10 flights to and from Paris Charles de Gaulle Airport had been cancelled on Thursday, but its 16 remaining flights operated, albeit with some delays
British Airways said a "handful" of flights had been cancelled on the first day of the strike but it hoped to use larger aircraft on other services to help those affected. Some flights to Spain and Switzerland were also affected due to flying over French airspace
Ryanair said passengers whose flights had been affected had been told via email or text message
Air France said about 30% of its domestic flights would be cancelled.
What about Eurostar and Eurotunnel?
Eurostar has warned that it will run a reduced timetable until 10 December – with no tickets expected to be on sale until then.
A list of cancelled services is on its website and passengers have been advised to check if their service will be running.
The operator said 11 out of 19 services from London to Paris will be cancelled on Thursday and Friday, with about half of all services from the French capital also facing cancellations.
Some services from London to Brussels and Amsterdam might also be affected, it said.
The operator said it expected about 90 services to be cancelled during the strike.
BBC reporter Keith Doyle said St Pancras station was "very, very quiet" on Thursday, with many passengers having made other plans ahead of the strike.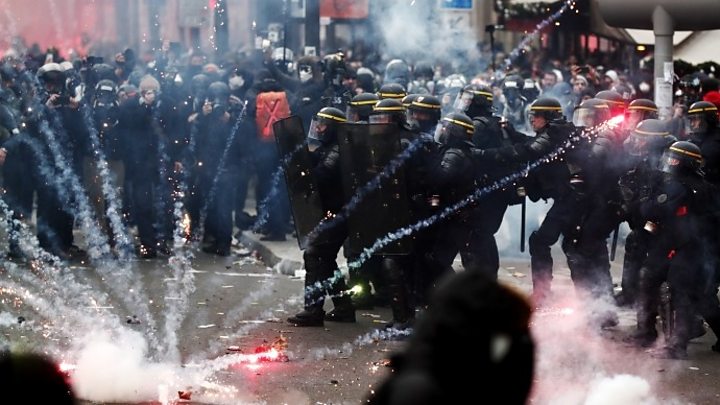 Eurotunnel said it "does not foresee disruption" on its service between Folkestone and Calais.
Industrial action by hauliers may also cause delays or blockages on some major roads in France, the UK Foreign Office has warned.
What about ferry crossings?
P&O Ferries, which operates services between Dover and Calais, has said that it expects "potential disruption" to its sailing schedule on Thursday.
Are Paris tourist attractions affected?
The Eiffel Tower in Paris closed on Thursday because of the strike – although visitors could still access the esplanade.
The Louvre museum said some of its viewing rooms were closed on Thursday.
Hotels across Paris have also reported a higher than normal level of cancellations ahead of the strike.
Riot police began searching pedestrians' bags before dawn on Paris's Champs-Élysées boulevard, where shops have been ordered to close ahead of a planned march by protesters.
Transport networks in some areas of France have also ground to a near-halt on Thursday morning.
Some 90% of high-speed TGV and intercity trains have been cancelled, with buses also affected.
In Paris, just five of the city's 16 underground Metro lines are running.
How have British tourists been affected?
A family heading on holiday to Disneyland Paris say they are "heartbroken" after hitting disruption caused by the strikes.
Daryl Moran, an electrical engineer from Merseyside, said he and his family had their Flybe flights changed while travelling to Manchester airport on Thursday morning.
The family of four later flew to Southampton airport, where they took another flight to Paris.
Mr Moran said: "We should have arrived at Paris 09:30am local time (08:30 GMT), we will arrive in Paris now at 17:00 local time."
The trip was a surprise for his eldest daughter, Olivia, who turns eight next week. They are due to return to the UK on Sunday evening.
Mr Moran said: "She is absolutely heartbroken that we are missing a full day there now," he added.
The family had booked a princess lunch for Thursday afternoon, which they hope to reschedule.
The father of two said they were given no warning of potential disruption by their airline, Flybe, or travel agent, Hays Travel.
Flybe apologised to its customers whose flights have been delayed.
The airline said it had been contacting those affected and encouraged passengers to check live flight information on its website.
Hays Travel said it had "not been contacted by the airlines or given any information to pass on to customers".
Where have there been protests in France?
More than 200 demonstrations were expected across France – with protesters urging President Emmanuel Macron to scrap his government's pension reform plans.
By 17:00 local time (16:00 GMT), 450,000 people had joined demonstrations in cities across France not including Paris. The CGT union said 250,000 had marched in Paris.
A number of "gilets jaunes" (yellow-vest) protesters said they planned to join the demonstrations.
Sporadic disturbances have broken out in some areas.
Police fired tear gas in the north-western city of Nantes and some protesters smashed shop windows in nearby Rennes.
In Paris, police carried out identity checks on more than 6,000 people.
By 17:00 local time, police in Paris had detained 87 people, officials said.
---
Have your travel plans been affected due to the dispute? Share your experiences. Email haveyoursay@bbc.co.uk.
Please include a contact number if you are willing to speak to a BBC journalist. You can also contact us in the following ways: