Four RAF fighters bomb Syria "chemical weapon stockpile"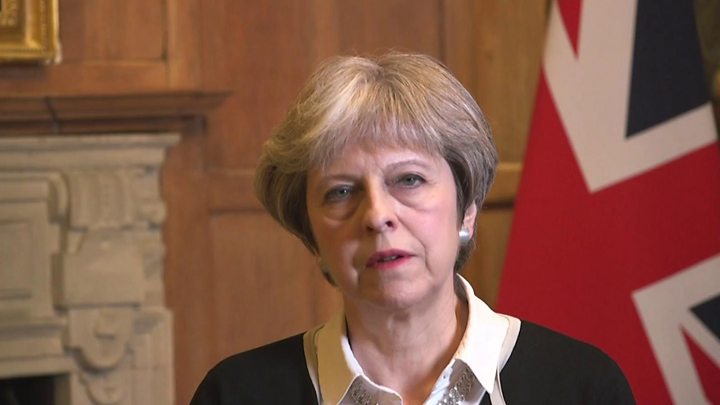 The UK has deployed four RAF Tornados in a "limited and targeted strike" against Syria.
The US and France have also launched co-ordinated strikes in response to an alleged chemical attack on the Syrian town of Douma last week.
Prime Minister Theresa May said there was "no practicable alternative to the use of force" to deter the use of chemical weapons by the Syrian regime.
She added that the strikes were not about "regime change".
Several large explosions have been heard in the Syrian capital Damascus.
In a statement Mrs May said that the Syrian regime had demonstrated a "persistent pattern of behaviour" when it came to the use of chemical weapons, that "must be stopped".
"We have sought to use every possible diplomatic channel to achieve this," the prime minister said.
"This is not about intervening in a civil war. It is not about regime change.
"It is about a limited and targeted strike that does not further escalate tensions in the region and that does everything possible to prevent civilian casualties."
'Chemical weapon stockpile'
The Ministry of Defence (MoD) said that the four RAF Tornados launched Storm Shadow cruise missiles at a Syrian military facility.
The former missile base was assessed to have been used by the Syrian regime to "keep chemical weapon precursors stockpiled in breach of Syria's obligations under the Chemical Weapons Convention," the MoD said in a statement.
Defence Secretary Gavin Williamson added: "The international community has responded decisively with legal and proportionate military force. Let these united actions send a clear message to the regime – the use of chemical weapons is categorically unacceptable and you will be held to account."