Former DJ 'used fame' to commit sex assaults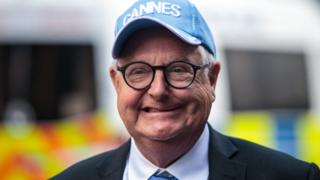 Former DJ and music producer Jonathan King used his fame to sexually assault teenage boys, a court has heard.
The 73-year-old, of Bayswater, west London, showered the boys with gifts or promised sex with girls their own age, prosecutor Rosina Cottage QC said.
Mr King is also said to have lured youngsters into his car before driving them home and giving them alcohol.
He is standing trial at Southwark Crown Court where he denies 24 serious sexual assault offences between 1970 and 1988.
He is alleged to have carried out attacks on 11 boys aged between 14 and 16.
Prosecutor Rosina Cottage QC told the jury of of five men and seven women: "When they were in his power and in no position to repel his advances he would assault them.
"It appears that it was a game of manipulation and power."
The jury was told the gifts included records and concert tickets and the boys were also shown pornography.
Mr King is appearing in court under his real name, Kenneth George King.