Flying the flag: What this World Cup has done for England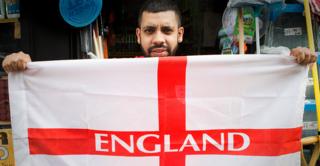 England football manager Gareth Southgate has said his diverse World Cup team represents England's "modern identity", and his players have a chance to affect something "bigger than football".
As the St George's flag is hoisted across the country, people tell us their stories about what it means to feel English – and fly the flag – ahead of England's clash with Sweden.

'The flag represents the Queen. You have to respect the Queen'

Jiwan Mangat
Heating and plumbing shop owner

"I'm excited for the game on Saturday. We will watch in our shop with our customers and friends.
"I was born in India and am Sikh – but I live in England and I am English.
"We've put the St George's flag on the shop for sporting events for 30 years. The flag represents the Queen. You have to respect the Queen."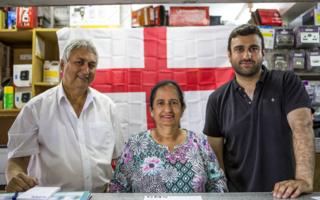 "When I came here, I had no work and no language but this country gave me a chance.
"Our children were born here and studied here."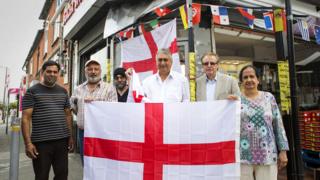 "I know we will win this match and we will definitely go through to the quarter-finals. For the semi-finals we will have to ask God to help us."



'The tournament is bringing people together who wouldn't usually socialise'

Amara Kamara
Student

"I'm so excited about the game. I was born in Nigeria, but moved to London aged nine. England is a good country.
"The atmosphere during the tournament has been great around here, everyone has just been drinking, relaxing and watching the games.
"I definitely think it's bringing people together who wouldn't usually socialise."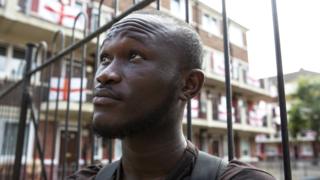 "I love the England flag – it's bright, colourful and motivates people.
"I know it might have been viewed differently in the past, but I don't know much about that."


'Englishness in a different light'

Carl Jones
Pub landlord

"My dad ran this pub for 30 years. His wife was a machinist and she made the flag [across the front of the pub] from scratch.
"Over the years, Englishness has had a lot of negativity."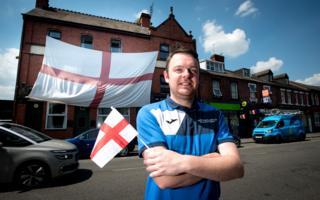 "After Brexit, I saw how divided people were – lots of strong opinions, people disagreeing.
"When I took the pub over, I wanted to show that everyone is welcome, as there are lots of cultures here."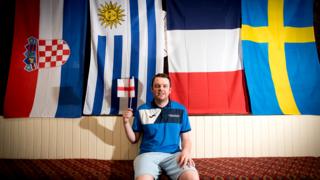 "For this World Cup, I've hung a flag for every country inside. This is about a nation coming together and respecting each other.
"After we got through the quarters, people were hugging – even though they'd never met. It's nice to see Englishness in a different light."


'English and proud'

Imran Asghar
DIY shop owner

"I see myself as English – I was born in the East End of London after all.
"My England flag means a lot to me. I'm the only retailer on the whole high street that has the England flag up here."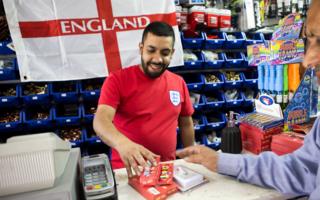 "As a British Asian, I think it's important for us to be able to integrate and show we can live within the culture here too.
"I'm 35 now – go back 25 years ago and it was a different situation in terms of racism.
"I do feel that we are living in a more tolerant world overall now. But we're still waiting for that complete acceptance."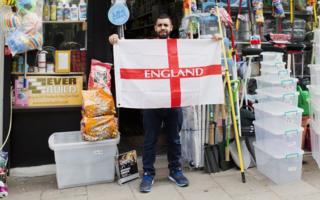 "I would love to see a British Asian breaking through into the England team one day soon – that's the next step."


'The flag is an uplifting sight'

Rev Coralie Mansfield
Vicar

"That's a new flag we've got up there. A few weeks ago, one of the villagers shimmied up and replaced the old one – it was in tatters!"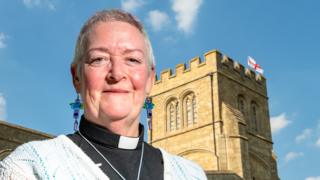 "It's a quintessential English rural village, but it's starting to change and diversify.
"I do have mixed feelings about the flag. It represents an identity, and that can pull people together and give a sense of unity.
"But it can also be a symbol of exclusion – and associated with the wrong kind of nationalism."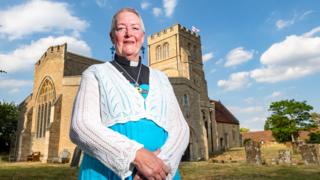 "In a village like this, it's an uplifting sight. There's a lot of patriotism here – we always have well-attended services on Remembrance Sunday.
"Football isn't a game that I usually watch, but given they've come this far, I will sit down with a gin and tonic and just hope they get through!
"The World Cup is reinvigorating nationalistic pride, in the best sense."


'It's nice to see someone I can relate to in the team'

Mel-axel Mulenda
Student

"I feel more part of things when the football is on. I was born here, but usually if someone asks, I would say that I'm from Congo.
"Growing up, I didn't feel like I was able to claim Englishness. But this England team is so diverse, it's captured the imagination of the younger generation like me."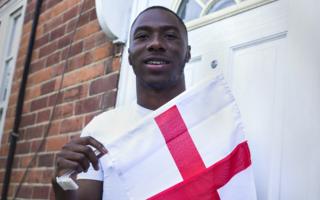 "When you hear Lingard's or Rashford's or Sterling's back story – they grew up in the same type of environment as me and my friends.
"It's nice to see someone like me that I can relate to in the team. I'll be wearing my flag with pride on Saturday – maybe it is actually coming home."


'When I hold up the St George's flag, I mean it'

Theo Ogden, with his father Stephen
YouTuber

"We've just got back from Moscow. We didn't want to leave, but we never thought England would get this far.
"Before we went, all my mates were saying – 'Don't wear your England shirt out there, don't wear your flag.'"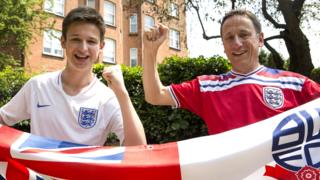 "People thought there might be trouble with Russian fans. Not at one point did I see any fighting at all.
"Everyone was so nice – one B&B owner bought us a cake to help us celebrate beating Tunisia.
"People perceive Russians as hooligans and not welcoming, and that's really sad. Instead of attacking us, the locals wanted photos with the flag."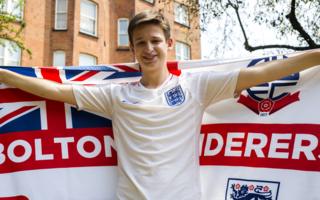 "I have passion for England, and when I hold up the St George's flag, I mean it.
"If we beat Sweden, I have to get back to Moscow. Hopefully I can record Football's Coming Home for my YouTube channel.
"I may need to convince my dad a bit, but we'll find a way!"



'Don't give up on your dreams'

Jordan Lamb
Beauty business owner

"We were sat in the pub watching the quarter-finals, having a drink and a laugh – and I thought, 'What can the girls do to join in the England spirit?'
"Football is traditionally quite a manly sport – girly-girls don't really wear England shirts, but the nails are a way we can show our support."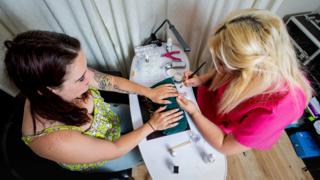 "I got into the beauty business when my mum lost her hair through cancer treatment. I started doing extensions, then all my clients kept saying – 'I wish you could do nails.'
"So I did my courses, training and diplomas. One of the last things my mum ever said to me was – 'Don't give up on your dreams.'
"So to see England doing well at something, it's something to be proud of.
"If we can do anything to help people get behind them, that's what we're going to do."

All images subject to copyright.
Photographs: Getty Images, Gavin Dickson (Shropshire), Sophie Wedgwood (London), SWNS (Buckinghamshire, Wiltshire)