First minister's wife tips him for weather job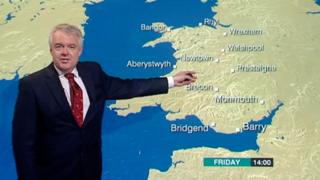 It is the question on everyone's lips after politicians give up the top job: What next?
The wife of outgoing First Minister Carwyn Jones has tweeted, suggesting he should apply for a BBC weather presenter vacancy.
With a bit more free time on his hands when he steps down next week, she said: "Here's a vacancy that might suit you."
He can list relevant experience on his CV – he stood in for Derek Brockway for Children in Need in 2013.
Indeed, people have remarked the pair actually look like, although the first minister, who will be replaced by Mark Drakeford, insisted he was "taller and slimmer".
It is a good job the vacancy is part time as Mr Jones will still have his hands full with his work as an AM, which he will continue doing until he stands down in 2021.
So does he have what it takes?
BBC Wales weather presenter Behnaz Akhgar said: "We would be delighted to have Carwyn as part of our team.
"He has the looks and charm of a great weather presenter. He's used to talking to the camera so I guess it's just the metrological side he needs to get to grips with, but I'm sure Derek would gladly help him.
"My only concern is that the audience might not be able to tell who is who. Now that could be a problem."