'Extra £450m funding' for police in England and Wales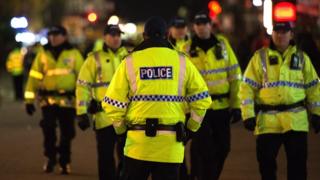 A potential £450m in extra funding for police in England and Wales in the next financial year has been announced by the Home Office.
Police and crime commissioners are to be given the power to raise the portion of council tax which goes towards policing by £12 per household annually.
That would raise £270m, while £130m for national priorities, such as firearms, would come from central government.
An extra £50m for counter terrorism has already been pledged.
In a statement, the Home Office said the settlement came after Policing Minister Nick Hurd spoke to every force in the country about the demands they face.
"It is clear that with more victims of serious, hidden crimes such as domestic abuse, modern slavery and child sexual exploitation coming forward, this has placed greater demand on policing," it said.
The Home Office added it had identified a further £100m of potential savings to be made through "smarter procurement of everything from cars to uniform".
It also said improving levels of productivity could see officers spend an extra hour a day on the frontline.
Home Secretary Amber Rudd said: "Taxpayers will invest more money in forces because the work our officers do to protect us is absolutely vital and we recognise demand is changing.
"However, my message to police forces is that this increased investment must mean we raise the pace of reform.
"For too long embracing digital and increasing productivity have been tomorrow's policing problems – now they are today's necessities. The government is committed to meeting this challenge and we want policing to do the same."