Ex-Police Scotland chief lands new role after bullying claims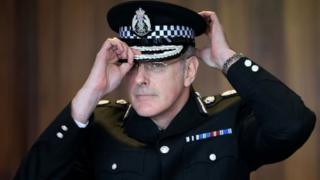 The former police chief for Scotland, who resigned amid allegations of bullying, has landed a major new role in policing.
Phil Gormley will be named as an inspector of constabulary, overseeing the performance of forces in England and Wales, the BBC understands.
He resigned as the chief constable of Police Scotland in February, during a series of investigations into claims of gross misconduct.
He has always denied any wrongdoing.
His new position is expected to be announced by the Home Office this week and he will start on Monday 22 October.
In July 2017, it was revealed that Mr Gormley was being investigated by the Police Investigations and Review Commissioner (Pirc) over bullying allegations.
He resigned from his role seven months later, saying it would have been "impossible" to resume working in a "meaningful" way, having been on gardening leave for five months.
At the time, the Pirc in Scotland was investigating five complaints – two others were being assessed internally.
They included claims of gross misconduct, which if proven, could have led to Mr Gormley being sacked.
The inquiries – which caused a political row involving the Scottish Police Authority (SPA) and the then Justice Minister Michael Matheson – were halted after he resigned and no action was taken.
A month before he resigned his wife, Claire, had taken the highly unusual step of writing to a national newspaper to condemn the "half-truths and lack of transparency" surrounding the investigation into her husband, which she said had the features of a "disproportionate fishing expedition".
The appointment of Mr Gormley to the policing watchdog, Her Majesty's Inspectorate of Constabulary and Fire & Rescue Services (HMICFRS), may cause surprise in Scotland – but will be seen by his supporters as a vindication of his case.
It's understood he was chosen from a strong field of candidates after a rigorous and protracted selection process in which he had to appear before a panel of experts before being interviewed by Home Secretary Sajid Javid.
His job at HMICFRS, working for Sir Tom Winsor, will involve inspecting 12 forces in the north of England, including Greater Manchester, West Yorkshire and Merseyside.
Mr Gormley, who's in his mid-50s, will be the only inspector of constabulary, out of six, to have worked in policing.
During his 33-year career, in which he rose to become Norfolk's chief constable and deputy director of the National Crime Agency, he served as a Metropolitan Police commander with oversight of the Special Demonstration Squad – a shadowy team that infiltrated political protest groups.
Some officers from the undercover unit entered into long-term sexual relationships with women they'd targeted but Mr Gormley told BBC Scotland he knew "nothing at all" at the time.