Ex-GCHQ boss Brian Lord admits Truth or Dare assault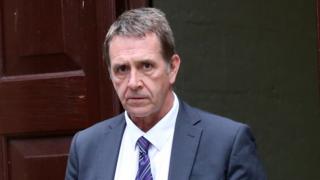 A former GCHQ boss has admitted assaulting a female dinner guest during a "sexualised" Truth or Dare-style party game.
Brian Lord OBE, the ex-deputy director for intelligence and cyber operations at the Cheltenham spy base, denied sexually assaulting the woman by putting his hand on her knee.
Prosecutors instead proceeded with a charge of assault, which Lord admitted.
He was ordered to pay the woman £100 compensation and £200 costs.
The judge in the case also gave him a conditional discharge.
The court heard Lord, 56, who now works in the private sector, and his partner, Natasha Marshall, attended a colleague's dinner party in Churchdown, near Gloucester, on 26 November 2016.
'Embarrassment and awkwardness'
Prosecutor Robert Duvall said: "During some party games the defendant placed his hand on the lady's knee.
"It was not momentary.
"It was there for a significant time and caused her embarrassment and awkwardness."
Mr Duvall said the woman had not felt able to express her concern but when Lord's partner left the table, she followed her to the kitchen.
He said Lord was "apologetic and left without question" when the issue was raised.
"He was emphatic that his actions, however unwise, were not sexual in nature."
'Sexualised games'
Rosemary Collins, defending, said everybody at the party had been drinking and Lord accepted he had put his hand on the woman's knee for "two to three minutes".
She said: "This was during the course of party games.
"They were sexualised party games such as 'Did you ever…?', 'Have you ever…?' that sort of thing.
"He intended no disrespect to her at all and accepts it was something that was stupid, done in drink.
"He thought he was getting on rather well with the complainant."
She added: "He has never been in trouble before.
"He is a family man, it is such a shame that it has come to this."
Judge Michael Cullum told Lord: "Your behaviour crossed the line to criminal behaviour, as a result of which you have lost your good name and your good character which, I know, you will have held dear."