Events held to remember murdered MP Jo Cox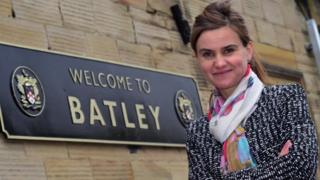 Communities will come together later to celebrate the life of the murdered MP Jo Cox.
The 41-year-old was shot and stabbed in Birstall, in her Yorkshire constituency of Batley and Spen, on 16 June 2016.
To mark the first anniversary of her death her family and friends have urged people to hold events that celebrate her life.
The Great Get Together, involving picnics, street parties and concerts, runs across the weekend.
Organised by the Jo Cox Foundation, it aims to reinforce the message in Mrs Cox's maiden speech in the House of Commons that "we have more in common than that which divides us".
Mrs Cox's sister, Kim Leadbeater, said the events were "nothing to do with politics, nothing to do with religion".
"Nothing to do with anything other than getting together with people in your communities," she added.
"People are desperate for it – people want something that is about coming together and being positive."
The Labour MP's former constituency will be the focus of a number of events.
School children across the area will participate in special assemblies and Upper Batley High School is renaming its conference centre in honour of Mrs Cox.
'Captured a moment'
There will also be moments of reflection in Birstall around a tree of remembrance.
Nationally more than 100,000 events have been planned between 16 and 18 June, the foundation said.
Mrs Cox's husband Brendan said he was "awed" by the numbers of people who planned to take part.
Ms Leadbeater said: "I think we've captured a moment in the nation where we need it more than ever, and people have certainly embraced it.
"Jo would have loved it. She would have been in the middle of it all trying to get to as many events as possible and talking to as many people as possible."