Elsie Scully-Hicks murder trial: dad was 'strangely calm'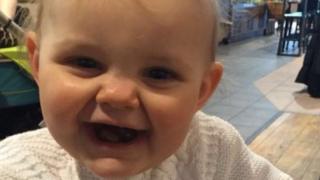 A man accused of murdering his adoptive daughter appeared unusually calm when she was being resuscitated in hospital, a doctor has told a jury.
Eighteen-month-old Elsie Scully-Hicks died at Cardiff's University Hospital of Wales after suffering catastrophic injuries in May 2016.
Matthew Scully-Hicks, 31, of Delabole, Cornwall, denies her murder.
Consultant paediatrician Dr David Tuthill told Cardiff Crown Court his behaviour "struck me as very unusual".
He recalled Mr Scully-Hick's husband Craig being "very tearful and upset" but added: "My recollection of him [Matthew Scully-Hicks] was of him being very calm.
"It was something, as I came back down to intensive care, that I said to my nurse practitioner. I said: 'That's strange – he was very calm'.
"Most resuscitations, people are in tears. Parents are normally in floods of tears. It struck me as very unusual.. it was very strange and out of the ordinary."
He continued: "People react in different ways. The common way when your child is being resuscitated and dying in front of you is to cry."
On Friday judge Mrs Justice Nicola Davies allowed the first photograph of Elsie to be released to the public.
On Wednesday, a former neighbour of the Scully-Hicks family, James Bevan, told the jury he heard offensive swear words being shouted at the infant.
Elsie died in the early hours of 29 May 2016, two weeks after being formally adopted.
She had been taken in by the couple eight months previously but in that time had suffered several injuries including a fractured ankle and a fall down the stairs.
Medical tests before she died showed she had suffered haemorrhages to her brain.
Post-mortem examinations revealed she had also suffered broken ribs, a fractured left femur and a fractured skull.
The trial continues.