Eleventh night disorder in Dundonald and Newtownards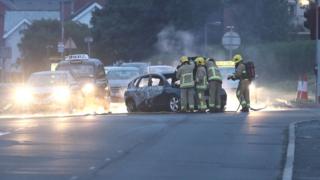 A number of cars and a bus have been set on fire in County Down during disorder on the Eleventh night.
A "number of cars were on fire" in Dundonald while a bus was burnt out in Newtownards, police said.
An incident on the Sydenham bypass kept passengers temporarily inside Belfast City Airport.
The incidents come after the PSNI warned that the East Belfast UVF "intend to orchestrate serious disorder" against police officers.
Eleventh night bonfires are taking place across Northern Ireland.
Bonfires are traditionally lit in many loyalist areas of Northern Ireland on the Eleventh Night – the eve of the Twelfth of July.
The Northern Ireland Fire and Rescue Service had received 56 emergency calls and were dealing with "24 incidents including a number of bonfire-related incidents and a number of deliberate vehicle fires", according to a tweet by Alan Walmsley, the fire service's assistant chief.
The PSNI said it was at the scene on the Upper Newtownards Road in Dundonald following reports of a number of cars on fire.
It said it was reported that "a number of masked males pushed a car into the road and set it on fire close to Robbs Road" at about 21:45 BST.
There was a further report that two cars were set on fire close to Carrowreagh Road.
"We would like to the thank the members of the public who are currently assisting us as we try to identify these individuals who appear determined to obstruct the road network, particularly so close to the Ulster Hospital's Accident and Emergency Department," the police said.
In Newtownards, police said was a bus was hijacked at about 19:30 in Blenheim Drive.
They said the hijack was carried out by a gang of masked men, one carrying a suspected firearm, before it was set on fire.
A number of passengers who were in the bus at the time were not injured.
The police said that the bus has been removed and Blenheim Drive reopened.
At Belfast City Airport passengers were kept inside while police dealt with an incident on the Sydenham Bypass.
Police had temporarily closed the road in both directions as officers searched the undergrowth in nearby streets.
Trains did not call at Titanic Quarter due to the security alert.
The Sydenham bypass has now been reopened and the airport is operating normally.
The incidents come after the police issued a statement on Thursday evening warning that it had information "the East Belfast UVF intend to orchestrate and participate in serious disorder in east Belfast this evening" against police officers.
"I would strongly urge people to desist from engaging in any violent or criminal behaviour," said Assistant Chief Constable Alan Todd
"I would also appeal to those who have influence in this community to discourage people from taking part in any illegal activity."
Earlier on Wednesday, material was removed from two bonfire sites in east Belfast.
Concerns had been raised over the safety of the Cluan Place and Bloomfield bonfires.
On Tuesday afternoon, a device believed to be a pipe bomb exploded in the nationalist Short Strand area, near to Cluan Place.