Drivers stranded on M74 as snow sweeps Scotland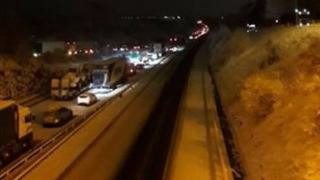 Heavy snow is causing disruption across parts of Scotland with drivers stuck in long queues on the motorway between Scotland and England.
Mountain rescue teams have been sent to check on stranded drivers after wintry conditions led to closures on the M74 at Millbank and Beattock.
Traffic Scotland said gritters were working hard to clear routes.
Police in Dumfries and Galloway have warned against "all but essential travel".
Dumfries & Galloway Virtual Operations Support Team – which was set-up to respond the weather issues in the region – said: "We have tasked Moffat Mountain Rescue Team to attend and check on those drivers stuck in their vehicles. We are working to clear the stuck vehicles and clear the crashes.
"Please remain in your vehicle and signal the mountain rescue team or police if you need any help or contact us via 999.
"We advise against all travel however if you do decide to travel you are likely to experience significant delays."
Earlier, motorist Nigel Cliff, who was heading south and was caught up in the tailbacks on the M74, told BBC Scotland: "It's pretty rough."
"It's snowing again now so it is probably only going to get worse. There are cars and lorries just sitting here – nothing moving."
Mr Cliff said he was prepared for the conditions: "I've got food. I've got big thick coats, big thick socks. My wife always makes sure I've got everything in the car."
Traffic Scotland said late on Tuesday evening that traffic was moving slowly again at junction 12 southbound and betweens junctions 14 and 15 northbound where there had been earlier closures.
On the Isle of Skye, the main road – the A87- was blocked for several hours in both directions by a jack-knifed lorry.
The closure meant two school buses with pupils who had been stuck for hours had to return Portree High. The school said they would be put in temporary accommodation for the night.
The Met Office has issued an amber alert for south west Scotland, extending to parts of the central belt, lasting until 08:00 on Wednesday morning.
On Tuesday evening, Scotland's Transport Minister Humza Yousaf tweeted that a number of HGVs had "lost traction with challenging weather impacting on M74".
He added: "Necessary to close the junction to get additional gritters and equipment to the scene."
Across Scotland more than 100 schools and nurseries were closed on Tuesday, with more than 10,000 pupils missing classes.
In the Highland council area, the weather affected 13 secondary schools, 53 primaries, two special schools and 26 nurseries. About 8,900 pupils had an unexpected day off classes.
Dumfries and Galloway Council said 20 schools were closed due to weather problems or heating failures. Some schools also closed in the East Ayrshire and Stirling Council areas.
In North Lanarkshire, all prelim exams for secondary pupils were postponed due to transport problems and all cafes in council leisure and culture buildings were shut.
South Lanarkshire Council closed 18 schools and nurseries throughout the day.