Doodoowatch 'poo-shaming' map gains UK council interest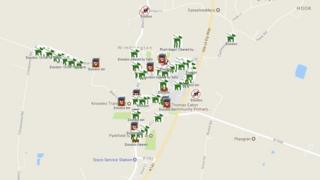 A village "poo-shaming" scheme designed to combat dog fouling could soon be seen across the country.
Residents in Wimblington, Cambridgeshire, hit the headlines with the interactive map showing the locations of unwanted deposits.
Creator Amanda Carlin said media attention had drawn interest from as far away as Kuwait.
In response, a "how-to" pack has been created and sent to about 60 councils and community groups.
The scheme, dubbed Doodoowatch, encourages users to report dog mess sightings.
Once logged, the poo's location is marked on an online map, alerting public-spirited locals or the district council's street cleaning team.
Mrs Carlin and other dedicated doodoo-watchers have made an instruction manual to help others join the fight against faeces.
It includes advice on how to engage the community in the project, create a map and signage, liaise with authorities and deal with negative social media comments.
Doodoowatch guides have been sent to more than 60 councils and community groups as far afield as Cornwall, Yorkshire and Sussex, Mrs Carlin said.
She said she was "delighted that others have been inspired by what we have done, and that we can help them at no charge".
You may also like: