Devon town Ashburton joins the plastic-free movement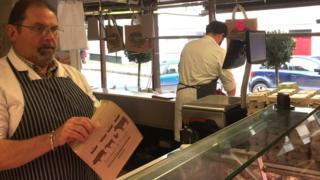 A Devon town has become the latest to sign up to a plastic-free movement to reduce its single-use plastic.
The initiative – set up by Cornish charity Surfers Against Sewage (SAS) – has been joined by Ashburton Town Council as well as 16 communities across the south-west of England.
It has been supported by more than 200 communities nationally aiming to go plastic-free.
SAS said it is about "shifting things back to how they used to be".
Plastic Free Coastlines is a national project where communities can work towards plastic-free status by achieving various objectives.
These include local councils committing to plastic-free alternatives and encouraging local businesses to get on board.
What do people in Ashburton think of going plastic free?
"I think it could work if enough people rally round," said postmaster Stuart Rogers, who has introduced paper bags for post office customers.
He is also interested in sourcing cards that come without plastic packaging.
Shopper Kayleigh Baker said: "It has to start somewhere and it's about time because our rivers are littered with plastic bags.
"We don't use plastic bags so our house is full of cardboard boxes which we crush and recycle."
Paul Arnold, of Moor Chocolate, has already introduced paper bags for his products.
"A lot of people already come in with their own baskets and when we had some plastic carrier bags at Christmas most people rejected them.
"So I think because of the culture here we're ahead of the game."
Shopper Emily Smith said Ashburton was "quite a progressive town" but a project to go plastic free "has to be inclusive so everyone has a say in and everyone feels apart of it".
"There's a real melting pot of people here, rich and poor, and you have to make it easy for people lower down the economic scale, who can only afford to go to the supermarkets," she added.
Dartmoor Butchers has ditched plastic bags for paper bags and plastic wrapping for waxed paper.
"We're getting good feedback and everyone is really keen," said butcher Tom Stockwell, pictured right.
David Smith, science and policy manager at SAS, said the project is about celebrating "simple and achievable goals".
"Businesses are starting to go back to paper or cloth alternatives for wrapping products. Butchers are starting to encourage people to bring own containers.
"We're even starting to see businesses using reusable glass bottles for milk.
"It's about making people realise that easy, simple changes can make a big difference. The culture is starting to change."
Other Devon and Cornwall communities working towards Plastic Free Coastline status include Exeter, Falmouth, Padstow, Plymouth and Truro.
Ashburton town clerk Bruce Broughton said the council has designed its own reusable cotton bags as a way of "starting small" to get people thinking.
"It's the hearts and minds thing. You've got to get people on side to do their own little bit," he added.
The council is working with Facebook group Plastic-Free Ashburton to find ways to encourage others to reduce plastic-use.
One member, Terhi Ikonen, said the town is "forward thinking".
"I've only been here since September and I can't believe how environmentally conscious everybody is and how everybody seems to get on board to help".
A commitment for Cornwall Council to phase out single-use plastics in the next two years across the whole county was also passed this week.
The motion was introduced by eight councillors and supported at a full council meeting on Tuesday.