Devon MP calls for change to stalking laws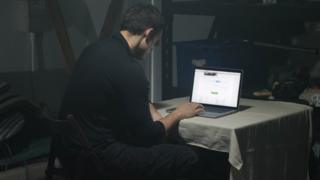 Victims of stalking by strangers are "left unprotected" under current laws, says an MP pushing for new legislation.
Dr Sarah Wollaston, MP for Totnes in Devon, is leading a debate on the Stalking Protection Bill.
It includes stalking protection orders (SPOs) that "would be on a par with those available" for victims of stalking by former partners, she said.
Under the proposed bill a breach of an SPO would lead to a jail sentence of up to five years.
The new orders would enable the police to enforce restrictions such as banning strangers from contacting individuals or their families.
Currently if the offender is a victim's partner, or former partner, police can use domestic violence protection orders to try to curb their behaviour.
SPOs would be applicable to all types of stalking but would address a gap in the law surrounding offences where strangers are involved.
'I was stalked by a stranger'
Tassy Swallow, a professional surfer from Cornwall, was stalked by a man who sent offensive and threatening Facebook messages leaving her in fear of being attacked. James Casbolt was jailed for 12 years in 2015 for the offences and others he committed against different woman.
Miss Swallow, 23, said: "Perhaps stalking isn't how it used to be perceived which is somebody following you in the street or looking at you from behind a bush.
"It might be more now that they sit for hours looking at all your things online, finding out who you are, what you do, looking at all your pictures and then they know where to find you.
"The scary thing for me is that I don't know how long that guy was watching me online and before he came up to me in the street."
Police would be able to apply for SPOs in the magistrates court and a breach would carry a jail sentence of up to five years.
Conservative MP Dr Wollaston, who is sponsoring the Private Members' Bill, said: "Stalking is such a serious offence and many victims are left unprotected and having to put protective measures in for themselves."
If MPs vote in favour of the bill at its second reading later it will move to committee stage before returning to the House of Commons for further debate before it can move to the House of Lords. However, very few private bills become law.
Police and prosecutors have previously been accused of letting down victims of stalking, with hundred of cases not being properly investigated.
Figures from Devon and Cornwall Police show an increase in reports of all type of stalking from 20 in 2012, to 102 in 2017. This includes cases where the victim knew the offender.
Supt Stu Cavin from Devon and Cornwall Police is in favour of the new orders.
He said: "It fills that gap. It allows us very early in the investigation to issue a protection order to the offender that makes them aware of their behaviour, and gives us a real criminal sanction if they should breach that.
"In parallel with that is the investigation that will go along as well. It's a really good tool within the investigation process."
The Suzy Lamplugh Trust, that campaigns to reduce the risk of violence, said: "Unlike other measures that are currently being applied to stalking cases, these orders will be designed to address specific issues related to the crime. 
"SPOs will allow police to apply to restrict perpetrators actions, for example stopping them from contacting or getting to close to their victim.
"They could even require stalkers to be psychologically assessed or to attend rehabilitation programmes to help prevent reoffending."