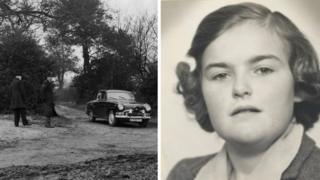 A month after she went missing, the body of 17-year old Anne Noblett was found frozen almost solid. It had been a mild winter and the discovery made little sense. How did the teenager, who was fully clothed and still wearing her glasses, end up ice-cold in woodland five miles from where she was last seen?
On the Monday she disappeared, 30 December 1957, the Watford Technical College student had been to a dance lesson with friends.
Telling them: "I'll see you on Friday" she got on the 391 bus from Harpenden in Hertfordshire to make her way back to Marshalls Heath and the comfortable home she shared with her brothers, mother and father, who was a successful businessman.
She was spotted by a friend after she got off at the bus close to her home at about 1800 GMT. And then she vanished.
But why was her body found frozen? Who had done this? And at a time when most people did not have access to refrigeration units – how? As one local newspaper put it, it was "one of the most sinister crimes of the century that even if it had been fiction would have seemed too diabolical".
Word spread fast that Anne had not come home.
"As a curious 11-year-old I cycled along the Lower Luton Road from Harpenden out to Marshall's Heath with my cousin Terry to see if we could help in the investigation," recalls David Keen.
"There were a lot of people doing the same – a sort of ghoulish interest in the macabre – and there were one or two cars parked around.
"In 1957 not that many people had cars, so that was the equivalent of a traffic jam."
In their youthful vigour, David and his cousin tried to help in the search for Anne, but to no avail. Where she had been taken before her body was dumped remains a mystery.
A month later, on 31 January, Hugh Symonds and his brother were out on a lunchtime walk with their dog Rip in Young's Wood, Whitwell, when they came across something unexpected.
"I came into the clearing and could see the body," Mr Symonds recounted to a local newspaper.
"I didn't go right up but I could clearly see the legs.
"It was like someone lying asleep but I knew the person must be dead."
Anne had been strangled, and probably sexually assaulted.
Supt Richard Lewis later told the inquest that her belongings were nearby.
"Even her glasses were on, although not in the proper position," he said.
But why was her body frozen solid?
As Mick Flavin, from the police unit that reviews historical crimes, points out, if she been left in that place for 32 days her remains would not have been in that state.
The preservation of her body could not have been caused by the weather, in what was a relatively mild winter.
January 1958's Met Office report says that while there was a week of wintry weather in the month, what followed was a "very rapid rise in temperatures".
So this led officers to consider whether Anne had been held in refrigerated storage. It led to the press dubbing her killing the "Deep Freeze" murder.
However, refrigerated units were not commonly owned in the 1950s. Nor, of course, were motor cars, and the police suspected the person responsible must have killed Anne somewhere else and driven her to the woods to dump her body.
All of this helped them to narrow down their investigation.
Police checked all deep-freeze equipment within about 30 miles of where the body was found as well as farmland, buildings, outhouses and factories and a number of "persons of interest" were interviewed, including, reportedly, a refrigeration expert.
Beyond a sexual motive, there was no apparent reason why anyone would want to kill Anne, a young woman without a boyfriend and, as her father put it at an inquest, someone with "no cares or worries whatsoever".
Anne came from a relatively affluent family, known in the local community for owning a now-defunct motorcycle helmet business.
All of the press coverage put the family front and centre of attention, providing an opportunity for some with twisted motives to get a kick.
Menacing phone calls to Anne's mother Ira Noblett began over a month after her daughter's body had been found.
She was not the only one to suffer in this way. Hugh Symonds received a call asking: "Was that your son who found the body in the woods at Whitwell? Tell him we will be over to get him on Wednesday night."
Mr Symonds, now 81 and still living in the county, was so concerned he slept with a shotgun underneath his bed.
Police did manage to track down the man behind the calls, a 25-year-old from Luton named Walter Edward Nunn. He was jailed for six months.
It would be the only arrest made in connection with the case.
---
Britain in December 1957
Harold MacMillan was nearing the end of his first year as prime minister
The Queen's Christmas speech was broadcast on television for the first time
The Lewisham rail crash killed 90 and injured 176 on 4 December
Mary's Boy Child, by Harry Belafonte, spent the whole month at number one in the charts
The Bridge on the River Kwai had been released to cinemas two months earlier
---
In the 60 years since Anne's death the story of her murder has gradually left the public consciousness.
"From time to time things would happen which resurrected it, but it just faded," says Mr Keen.
Over the years the case has been reviewed several times, including as recently as February.
Mr Flavin, of the Bedfordshire, Cambridgeshire and Hertfordshire Major Crime Unit Investigation Review Team, admits there is a good chance Anne's killer might be dead.
With the help of scientific advances several killers have been trapped decades later by cold case teams like Mr Flavin's.
However, despite the murder being "far from the perfect crime", no shred of physical evidence survives from the police investigation, meaning no DNA profile of the killer can be created.
"The endeavours of the police were mostly speaking to people and old-fashioned 'coppering' back then," Mr Flavin said.
"Had we had the forensic knowledge we have now, things could have been different."
He says he still clings to the hope the killing might be solved, so that Anne's family, including her younger brother Hugh Noblett, might learn the truth.
Mr Noblett declined to be interviewed about his sister's murder, but released a statement referring to her as a "much-loved, gentle and caring sister".
"No day passes without me thinking of her and the tragic circumstances and mystery surrounding her death."
Additional reporting by Katy Lewis.