Dealer who stabbed Cardiff officer with 'vicious' blade jailed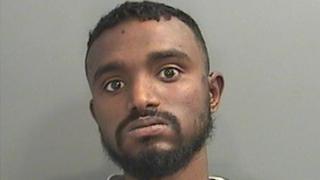 A drug dealer who stabbed a police officer with a triple-bladed knife has been jailed for 11 years.
Abdirahaman Hashi, 27, stabbed PC Graham Budd in the shoulder and assaulted another officer during a drugs raid in Cardiff in September.
Hashi was jailed after pleading guilty to a number of offences at Cardiff Crown Court.
Judge Eleri Rees said the knife was 'one of the most vicious weapons' she had ever seen.
She added that it was lucky the injuries were not life-threatening.
The court heard how Hashi stabbed PC Budd, causing a 4-5cm wound, as he tried to restrain him when Hashi ran away during the raid at a property on Newport Road on 19 September.
PC Budd, who needed stitches for the wound and is receiving therapy, has yet to return to work following the incident, which also saw PC Ruth Copeland elbowed in the face.
Around £300's worth of cocaine and heroin was recovered from the address during the operation.
In a statement read out in court PC Budd said he was worried about returning to duty and said the incident had affected his family.
"Being a wife of a police officer can be stressful enough… especially when they get a phone call in the middle of the night saying you've been stabbed," the statement said.
PC Ruth Copeland said officers had seen an increase in the number of people carrying knives in the last 12-18 months.
She said: "As police officers I think people think that it's all part of the job and we're trained to deal with everything.
"However we're not trained how to emotionally deal with incidents afterwards. I think it will be something that will be on my mind for a while yet."
Hashi, who has previous convictions for robbery, carrying a knife and possession of class A drugs, pleaded guilty to offences including possession of an offensive weapon, wounding with intent, ABH and possession of heroin and cocaine with intent to supply.