'Dad's dementia broke me and I find him hard to love'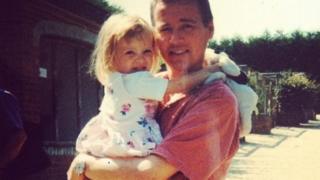 Hayley Morris, 25, says she had a "perfect relationship" with her 60-year-old dad Kevin. Two years ago that changed. He was diagnosed with a rare form of dementia – Pick's Disease – which causes personality and behaviour changes. Here Hayley describes the impact it's had on her life with her dad.
"I got a call from my mum saying 'Your dad's got dementia'.
"All the blood just rushed to my feet and it just felt like I couldn't do anything.
"Now I have to treat him as two separate people – my dad is gone but Kevin is still here.
"I feel like I didn't hug my dad enough or tell him I loved him enough when he was normal.
"I can't tell him that anymore because I don't know if I do.
"I love the old him so much but he's now hard to love.
"People might think that's ridiculous and say 'You're not human, how can you feel like you don't love your dad?'
"Trust me, it's not my dad anymore. It's just not. It's a different person.
"One day I came home from work and was really down and I blurted it out in front of a camera.
Warning: This video contains strong language and for support on the issues raised click here.
"I was broken as a person. The situation is so horrible.
"I think my way of dealing with it is how a lot of people deal with it.
"You can talk about it and turn off your emotions and pretend you're fine but I'm not fine.
"I've lost my dad. I've lost my family. I've lost a huge part of my life.
"Everyday it's difficult to come to terms with that, but not every day do I feel those feelings.
"I pretend everything is fine and it's not a huge deal."
'There's nothing left of his original self'
Someone in the UK develops dementia every three minutes, according to the Alzheimer's Society.
The charity suggests more than a quarter of people who care for a relative with dementia feel "cut-off from society".
Hayley's mum Julie says that's how she sometimes felt:
"I used to wake up at night and look at him and think he's never going to be the same again.
"It was really hard and I kept thinking I'm losing him.
"We got married young 36 years ago and we had a very strong marriage, we were very happy. I relied on him 100%.
"Kevin isn't Kevin at all anymore. The past two years have been hell. I didn't know how to tell Hayley.
"There's nothing left of his original self. He's got no vocabulary but he smiles a lot so I'm hoping he's happy.
"He now goes to a care home during the day which is much better for me, and more importantly better for him.
"They've a garden so he can run around. They play ball with him. He'll colour in and do word searches with them.
"I can't go out with friends so they come here for drinks.
"My friends have been a tower of strength and I seriously couldn't have done it without them.
"If I am struggling they're always there. I burst into tears quite a bit.
"There are times when you can deal with it and then something will trigger and you'll get a wave of emotion.
"He knows who we are. He can remember where we live. I'd love to have a chat with him and say that this has happened.
"Even if we could have an hour of the old him, just to ask him what he wants us to do.
"What would you like me to do? What can I do to help? What will make you happy?"
More than 24 million people in the UK know a family member or close friend living with dementia, says Alzheimer's Research UK.
The charity estimates one in three born today will develop the disease.
Since Radio 1 Newsbeat spoke to Hayley and Julie, Kevin has been able to move into full-time care.
For details on organisations that can provide information and support about dementia visit the BBC programmes page.
Follow Newsbeat on Instagram, Facebook and Twitter.
Listen to Newsbeat live at 12:45 and 17:45 every weekday on BBC Radio 1 and 1Xtra – if you miss us you can listen back here.