Cressida Dick appointed as first female Met Police chief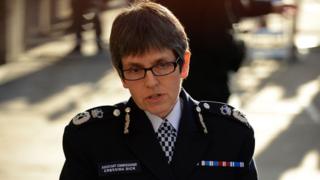 Cressida Dick is the new Metropolitan Police Commissioner, the first woman to take charge of London's police force.
She succeeds Sir Bernard Hogan-Howe, who led the force from 2011 until announcing his retirement last year.
Ms Dick was previously the national policing lead on counter-terrorism, but left the Met for the Foreign Office.
She said she was "thrilled and humbled" to be appointed, and was looking forward to "working again with the fabulous women and men of the Met".
Menezes shooting
Ms Dick, 56, left the Met after 31 years of service in December 2014, but the BBC's home affairs correspondent Danny Shaw said her selection as commissioner was not without controversy.
She was the commander in charge of the operation in which the innocent Brazilian electrician Jean Charles de Menezes was shot dead two weeks after the 2005 London Bombings.
A jury later found the Met had broken health and safety laws, but found there was "no personal culpability for Commander Cressida Dick".
Ms Dick was chosen for the top job ahead of National Police Chiefs' Council chairwoman Sara Thornton, Essex Police chief constable Stephen Kavanagh and Scotland Yard's Mark Rowley.
Her statement said: "This is a great responsibility and an amazing opportunity.
"I'm looking forward immensely to protecting and serving the people of London…
"Thank you so much to everyone who has taught me and supported me along the way."
Home Secretary Amber Rudd said Ms Dick was "an exceptional leader" with a "clear vision" for the future of the Met and an "understanding of the diverse range of communities it serves".
"She now takes on one of the most demanding, high-profile and important jobs in UK policing, against the backdrop of a heightened terror alert and evolving threats from fraud and cyber crime."
London Mayor Sadiq Khan said she was the "best possible person" to take the Met forward.
He said: "She has already had a long and distinguished career, and her experience and ability has shone throughout this process. On behalf of all Londoners, I warmly welcome Cressida to the role."
'Offensive' appointment
But there was criticism from the family of Mr de Menezes, who was shot dead after being mistakenly identified as a terror suspect.
His cousins Patricia Armani and Alex Pereira said her appointment was "offensive" to his memory.
Ms Armani said: "Our family is disappointed that she has now been appointed for such an important role at a time there are many more threats to public security in the form of terrorism.
"What are the guarantees that more innocent people won't be killed by the police in London?"
Ms Dick's new post commands a salary of £270,648, plus benefits.