Coronavirus: Shielding in Wales to end on 16 August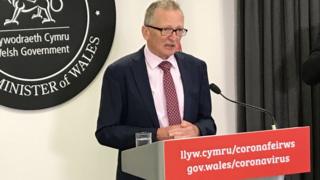 Vulnerable people in Wales can stop shielding after 16 August, the chief medical officer has said.
Around 130,000 people in Wales were advised to take shielding measures since the start of the pandemic.
At the coronavirus briefing on Thursday, Dr Frank Atherton said people in the shielding group would be able to go to work, school or shops.
"Those who have been shielding can gradually resume day-to-day life," he said.
Dr Atherton added the measures would be kept under review in case of a rise in transmission levels.
He said it was still very important that people in the shielding group continued to pay strict attention to physical distancing and good hand hygiene.
Some of the support which has been made available for those shielding will end, such as the weekly food box scheme – a direct food delivery service which is currently provided for people shielding.
But supermarkets will continue to offer priority delivery slots for those who are deemed particularly vulnerable to coronavirus.
A prescription delivery service will remain in place until 30 September, said Dr Atherton, who added he will be writing to everyone in the shielding group.
Dr Atherton said the NHS in Wales will keep an up to date list of those who have been shielding, because "we just don't know what's round the corner".
He added the Welsh Government may have to reinstate "some form" of shielding in the future, if the virus increases in Wales.
"It may be – we hope not – but it may be we may have to reinstitute some form of shielding in the future," he said.
"If we do that, it may not be exactly the same group, there's a piece of work going on at a UK level to do a better risk assessment so that we have a clearer idea of who really will benefit."
Who has been shielding?
Those most at risk of coronavirus, including:
Solid organ transplant recipients
Some people with cancer who are undergoing treatments such as chemotherapy and radiotherapy
People on immunosuppression drugs
Women who are pregnant and have heart disease
People with severe respiratory conditions – cystic fibrosis, severe asthma and COPD
Some people with rare diseases such as severe combined immunodeficiency
'Confidence to go out'
As those shielding prepare to slowly return to normal life, a trainee anaesthetist has designed a pin badge encouraging others to keep their distance.
Helen Iliff, who works at Prince Charles Hospital, Merthyr Tydfil, created the badge while she herself was shielding.
"It's been very exciting and I like to think I've made the most of the time shielding," she said.
"It's not just about giving people the confidence to go out; it's also about our wider understanding of personal responsibility and respect for others.
"It's not that people aren't willing to engage with social distancing, but we are tiring after so long in lockdown and people forget."
The symbol of a shield has been printed on 130,000 badges to be distributed at health boards across Wales.
Lanyards, stickers and other merchandise has also been produced.