Coronavirus: Call for Welsh Government borrowing limits to be scrapped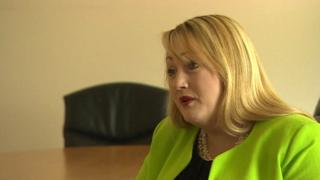 The Welsh Government has urged UK ministers to allow it to borrow more money to help deal with coronavirus.
Finance Minister Rebecca Evans said the UK Treasury should end "arbitrary limits" on financing spending in Wales.
Later on Wednesday, Welsh ministers will announce spending plans to deal with the pandemic.
Around £2.4bn is being allocated to help firms and public services, following extra cash from the UK Treasury.
Currently the Welsh Government is able to borrow £150m a year for infrastructure, up to a limit of £1bn, and £200m a year for day-to-day spending.
The UK government was asked to comment.
Speaking at the daily Welsh Government press briefing, Ms Evans said: "Our capacity and our ability to get money to the frontline has been constrained by the rigid financial rules imposed by the UK Government".
The minister said the Welsh Government wanted "more flexibility to help us respond to the crisis".
"The challenge that we're facing is really huge. This is why we need to make the most of all possible levers that we have," she said.
She said the UK Treasury should end "the arbitrary limits on our borrowing" and also remove "the limits on the amount we can draw down from our own reserves".
Ms Evans called for Welsh ministers to be able to switch "capital funding" – generally used for infrastructure projects – "to day-to-day revenue funding" – used for services.
The finance minister appealed to UK ministers not to pursue a policy of "austerity" post-pandemic.
"We all want to see a prosperous post-pandemic Wales. But to do that, we need long-term fiscal stimulus from the UK government and not to have our hands tied behind our backs with years of cuts, and unjust hardship," she said.
Welsh Government borrowing powers have been expanded over the last six years, and have come alongside new levers for ministers in Wales to raise and vary some taxes to help fund spending.
'A really rough time'
The finance minister warned of the economic headwinds expected for Wales following the pandemic.
Chancellor Rishi Sunak said last week that the UK is facing a recession on a scale "we haven't seen before" and the economy could be permanently scarred.
Ms Evans said: "All of the evidence and the advice and expert opinions does tell us we are in for a really, really rough time."
When Ms Evans was asked how she would prepare the Welsh public for what is coming, she said we can expect a "stop-start recovery".
She said the Welsh Government had "tried as best we can to help those businesses to hibernate" so that firms are ready to trade when the economy begins to recover.
Later on Wednesday, Ms Evans will publish details on how £2.4bn is being spent to help firms and public services struggling with the pandemic.
The supplementary budget will include an extra £750m allocated to the NHS and other key public services.
The original 2020-21 Welsh budget has increased by more than 10% since March.
The increase in funding from the UK Treasury is as a result of spending on dealing with the pandemic in England.
It was apportioned using a formula that ensures extra spending on public services in England is reflected in Welsh budgets.
What is being spent?
Last week, First Minister Mark Drakeford said the Welsh Government was also "re-purposing existing budgets and realigning European funding" to deal with the Covid-19 crisis, to add to the extra money that has come from the UK government.
Spending on coronavirus includes:
nearly £500m extra for health and social care
an additional £1.3bn for the economy and transport budget
£500m more for housing and local government
Large sums of the money are already being spent, including within the economy and transport department's £500m economic resilience fund.
Welsh Conservative finance spokesman Nick Ramsay said for the budget to be effective it "must include re-allocations from less vital areas to those that really need it – health and the economy – and it must be transparent so that we, the party of opposition, can scrutinise it thoroughly and fully".