Child abuse inquiry says orphanages were places of 'threat and abuse'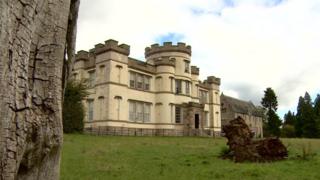 Children at Smyllum Park orphanage were sexually abused and beaten with leather straps, hairbrushes and crucifixes, the Scottish Child Abuse Inquiry has found.
Nuns belonging to the Daughters of Charity of St Vincent de Paul ran the Catholic Children's home near Lanark, as well as Bellevue House, Rutherglen.
Lady Smith, who is chairing the inquiry, has published a report on evidence heard during the case study.
She said the homes were places of fear, threat, and excessive discipline.
The judge said emotional, physical and sexual abuse took place.
The children found "no love, no compassion, no dignity and no comfort," she said.
The inquiry was set up in October 2015 to look at the historical abuse of children in care across Scotland.
It is currently in the process of looking at allegations of physical and sexual abuse at 86 institutions, including former children's homes and leading boarding schools.
The inquiry, which has cost £15.67m so far, was originally scheduled to end next year but the Scottish government has since said it can take as long as it needs.
From the end of November last year, the child abuse inquiry heard evidence over 20 days about the Daughters of Charity of St Vincent de Paul.
A total of 54 witnesses told of their experiences at Smyllum Park, which closed in 1981, and Bellevue House, which closed in 1961, and 21 written statements were submitted.
Lady Smith's report into the Smyllum and BelleVue case studies concluded:
Children were abused while in the care of the Daughters of Charity of St Vincent de Paul
Children were sexually abused in Smyllum. Children were sexually abused by priests, a trainee priest, Sisters, members of staff and a volunteer.
There was also problematic sexual behaviour by other children.
Children were physically abused. They were hit with and without implements, either in an excess of punishment or for reasons which the child could not fathom.
The implements used included leather straps, the "Lochgelly Tawse," hairbrushes, sticks, footwear, rosary beads, wooden crucifixes and a dog's lead.
For some children, being hit was a normal aspect of daily life.
The physical punishments meted out to children went beyond what was acceptable at the time whether as punishment in schools or in the home.
Children who were bed-wetters were abused physically and emotionally.
They were beaten, put in cold baths and humiliated in ways that included "wearing" their wet sheets and being subjected to hurtful name-calling by Sisters and by other children.
Many children were force-fed.
Lady Smith's said she would take her findings into account when she analyses all the evidence gathered by the inquiry and decides what recommendations to make within the final report.