Charlie Gard: European Court orders life support to continue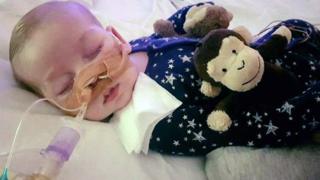 Terminally-ill baby Charlie Gard must continue to receive life support until judges make a ruling on whether he should undergo a trial treatment.
Parents Chris Gard and Connie Yates have launched a final legal challenge at the European Court of Human Rights after a Supreme Court challenge failed.
European judges said doctors must keep the 10-month-old alive until they make a judgement.
Specialists at Great Ormond Street believe he has no chance of survival.