Cambridge PC 'mounted pavement' to 'run man over', hearing told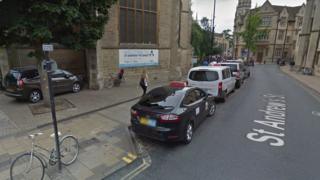 A police officer "deliberately drove" at a man and "ran him over" on the pavement, a misconduct hearing was told.
PC Rowan Huskisson was heard to say "That's how you deal with that" after his marked car hit Sam Whitmore in Cambridge at 03:45 BST on 28 May.
Footage from CCTV and a body-worn police camera were played to the hearing in Biggleswade, Bedfordshire.
PC Huskisson admits misconduct but denies gross misconduct.
Read more Cambridgeshire stories here
The Cambridgeshire force hearing was told PC Huskisson was working with PC Chris Griffiths on Operation Connect, targeting alcohol-related disorder in Cambridge at night.
A call had come in that a man had broken free of bouncers after two alleged assaults and was running towards St Andrew's Street, panel chairman James Tumbridge was told.
Mr Griffiths – who has since left Cambridgeshire Constabulary – said the call "sounded urgent to my ears" and he turned on his body-worn camera "assuming it was an imminent arrest".
Footage from a camera overlooking the street showed PC Huskisson's marked police car turn left into the cobbled taxi rank and appear to mount the pavement and collide with Mr Whitmore.
PC Huskisson could be heard on the body-worn device saying "That's how you deal with that" in the seconds after the collision.
'Flippant' comment
He told defending barrister Colin Banham that he saw Mr Whitmore running and wanted to create a "hard block".
"My intention was to try and stop him," he said. "He was a suspect in two assaults.
"My plan was to stop the car so he would have to negotiate and change his course, to give me that quarter second I needed to get hold of him," he added.
"Unfortunately we both made the same manoeuvre."
Mr Whitmore suffered minor injuries in the collision.
'Unbelievable notion'
PC Huskisson admitted he may have made the "flippant" comment but said it was the "opposite of what I was thinking".
Matthew Holdcroft, representing the police, said PC Huskisson was "gilding the lily" in his recollection of events.
"You drove that vehicle at a member of the public deliberately and ran him over, didn't you?" he asked him.
"I didn't intend to hit him and the notion is unbelievable," replied PC Huskisson.
The hearing continues.