Buzzcocks singer Pete Shelley dies at 63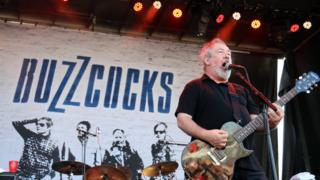 Pete Shelley, lead singer of punk rock band Buzzcocks, has died at 63 of a suspected heart attack.
The band are best known for their hit, Ever Fallen in Love (With Someone You Shouldn't've).
Their management told the BBC that Shelley died on Thursday in Estonia where he was living.
BBC music correspondent Lizo Mzimba said Buzzcocks, who formed in the 1970s, were regarded as a significant influence on the music scene.